5 Days for the Homeless team raises $37,000
Concordia crew exceeds goal of $35,000 and beats out all other campaigns across Canada.
Concordia's 5 Days for the Homeless 2011 campaign raised $37,648 — a figure that continues to rise almost daily as pledged donations are collected. The amount well exceeds their goal of $35,000.
Concordia's total topped that of all 21 other Canadian universities.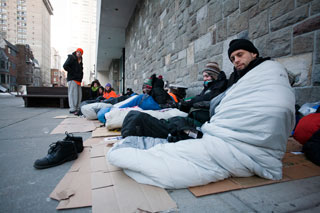 Held March 13 to 18 this year, the campaign saw volunteers across Canada live "homeless" for five days to collect money for local charities; Concordia chose Dans la rue, a Montreal organization that helps those without homes.

This was the first year Concordia teamed up with other Montreal universities. Together with the École des Hautes Études commerciales (HEC), McGill, and the Université du Québec à Montréal, they raised a total of over $57,000, surpassing the partnership's goal of $50,000.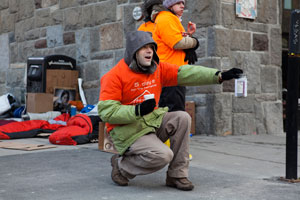 This winter's result brings the total for Concordia's contribution to Dans la rue to more than $147,000 over four years of 5 Days.

The 21 Canadian universities participating in this year's campaign collected more than $220,000 for various charities across the nation.
While the campaign is over, the team continues to raise funds. Please visit the website to donate.


Related links:
• 5 Days for the Homeless Concordia
• "Concordia Students Take It to the Streets" - NOW, March 14, 2011
• "5 Days for the Homeless" - Journal, March 7, 2011
• "5 Days and 5 Nights" - Journal, March 18, 2010
---