Third project from the sun: Concordians in space
Student-run astronautics group could make Concordia the first Quebec university with a satellite in space
February 14, 2011
|
Source: Concordia Journal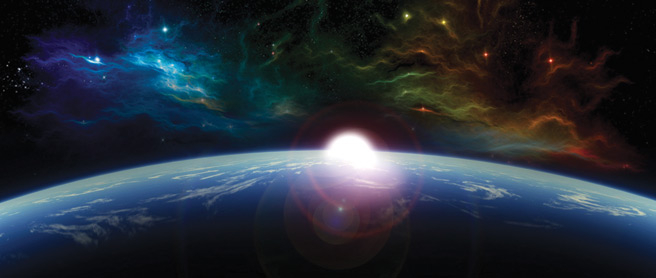 There are many grandiose adjectives one can use to describe any given project. This time stellar would be 100% true.

The student-run organization Space Concordia is preparing to build a tiny satellite, fill it with one bright idea from some bright Concordian, and put it into orbit.

The team is building a CubeSat – a 10 cm by 10 cm by 10 cm cube-shaped satellite with a total weight limit of 1.33 kg. Now, they're looking for something to put in it.

They've been requesting ideas from the Concordia community via their website with the following criteria: besides a few technical requirements, the payload must have scientific value, it must be feasible and durable, and it must be innovative. Also, it can't cost more than $10,000.

"The whole challenge is to take up minimal space with a miniaturized scientific instrument and do something useful," says Space Concordia team leader and fourth-year mechanical engineering student Niccolo Cymbalist.

Thus far, they've had a handful of good ideas.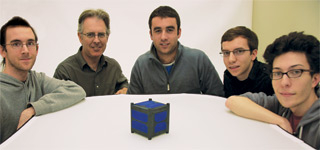 One notable suggestion was to equip the CubeSat with a small camera with a powerful zoom, which would be controlled via a website by elementary school students throughout Canada. "A teacher could say, 'Today we're going to learn about space and science, and to support this activity, we'll put the satellite overhead and take a picture,'" he says.

Another idea came from electrical and computer engineering (ECE) professor Nawwaf Kharma (see Journal, January 31, 2011), who suggested launching ants into space to observe how they build their nests in zero gravity.

Whatever the winning idea, the team will enter their CubeSat into the Canadian Satellite Design Challenge to compete with entries from 14 other Canadian universities. Each project entered will be tested for functionality and durability in a simulated space environment. The best design will be selected in October 2012 to launch into space at some future date and used for scientific research.

If they win, Concordia would become the first university in Quebec to launch a CubeSat.

While the cosmic portion of the project seems quite impressive, the team's interdisciplinary nature makes the initiative unique.

Space Concordia comprises about 30 students, both grad and undergrad from a wide range of departments, "all interested in stuff to do with space," says second-year ECE student and VP Communication for Space Concordia, Nick Sweet.

Granted, most students are from engineering, but the team also has a fine arts student who helps design and maintain the website, multiple physics students, and they've been in contact with some people in the natural science community to determine needs for experiments that could potentially take on an extraterrestrial dimension.

"There is a kind of team learning going on. I really get boosted up in my education, which is quite helpful," says Sweet.

"I see the mix of graduate and undergraduate students as a good thing," says ECE professor Scott Gleason, the group's faculty advisor. "Many people say the CubeSat is just an undergraduate project, but in the future, as instruments get smaller and smaller, they could be very useful vehicles for graduate students to do real research," he says, stating similar projects at his former workplaces, Stanford University and the U.K.'s University of Surrey, were completed with "amazing success."

"In Montreal, there's a lot of thinking around aerospace, but not much about astronautics," says Gleason. "This is just the beginning of astronautics at Concordia. We want to build some momentum with this project, get established, get some regular funding so we can do some really interesting projects."

What would you send into space? Email Space Concordia.

Related links:
• Space Concordia
• Space Concordia on Facebook
• Space Concordia on Twitter
• Concordia Journal story on Nawwaf Kharma, January 31, 2011
• Canadian Satellite Design Challenge
• Con U Wants to Send Your Ideas Into Orbit – The Link, Jan. 25, 2011
• Concordia in Space – The Link, Nov. 16, 2010
---