Biography of Dr. Frederick H. Lowy
On January 21, 2011 Concordia University's Board of Governors appointed Dr. Lowy as Concordia's President on an interim basis
An experienced educator and academic administrator, Dr. Lowy was President and Vice-Chancellor of Concordia University from 1995 to 2005. He served as Interim Executive Director of the Sauvé Scholars Program (2007-2008) and was elected to the Board of Directors of the Sauvé Scholars Foundation in May 2008. He is Senior Advisor to the President of the Trudeau Foundation.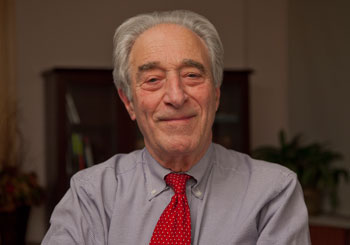 Born in 1933 in Grosspetersdorf, Austria, Dr. Lowy moved to Montreal at age 13 and attended Baron Byng High School.
Following medical school at McGill University and a period as a family doctor on Montreal's West Island, Dr. Lowy started his career in psychiatry in Cincinnati, Ohio, and returned to McGill and the Allan Memorial Institute in 1965.
He later became Chief of Psychiatry at the Ottawa Civic Hospital, and then a professor in the University of Toronto's Department of Psychiatry from 1974 to 1995, where he served as department chair. He was Dean of the Faculty of Medicine and founded the Centre for Bioethics at the University of Toronto before returning to Montreal in 1995.

Dr. Lowy was the first Chair of Canada's Tri-Council (Medical Research Council, Natural Sciences and Engineering Research Council, Social Sciences and Humanities Research Council) Working Group on Ethics of Research on Human subjects (1994-1995) and Vice-Chair, Hospital Restructuring Committee, Metro Toronto District Health Council (1994-1995). He is a Fellow of the Royal College of Physicians and Surgeons of Canada, a Life Member of the Canadian and American Psychiatric Associations and the American College of Psychiatrists. He is also a member of the Canadian Medical Association and the International Psychoanalytical Association.

Dr. Lowy has lectured and published widely. His most recent publications examine ethical issues that face modern physicians and health science researchers. Dr. Lowy has been a member of the Board of Directors of the Montreal Board of Trade and of Centraide (Montreal); Vice-President of the Conference of Rectors and Principals of Quebec; and a member of the board of the National Ballet of Canada. He has been a trustee at Ontario's Sunnybrook Health Sciences Centre, the Mount Sinai, St. Michael's, and Toronto Hospitals, and the Ontario Cancer Institute. He chaired an Ontario Government inquiry into the pharmaceutical industry (1988-1990), and has held numerous professional editorial posts, including Editor of the Canadian Journal of Psychiatry.

In 2000, Dr. Lowy was named an Officer of the Order of Canada. He has received honorary degrees from the University of Toronto (1998), McGill University (2001), and Concordia University (2008).
Related link:
• Concordia appoints Dr. Frederick H. Lowy President for an interim period -- NOW, January 21, 2011
---