Music Department moves to MB Building
Eighth floor facility includes state-of-the-art equipment and soundproofing, new Steinway grand
August 30, 2010
|
Source: Concordia Journal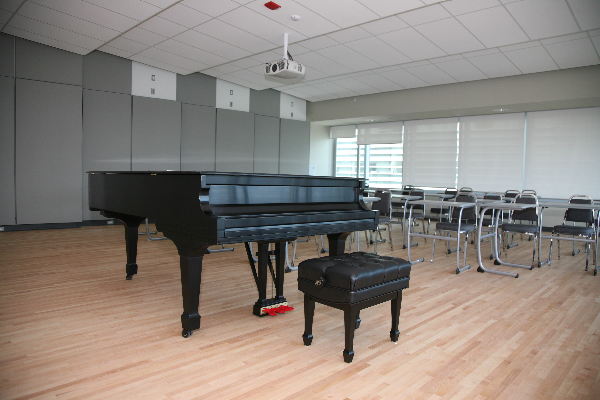 Sound carries and bounces, is drowned out and can be too pitchy, as those who watch any of the Idol franchise know.
So, when plans were developed for the Department of Music's move to the eighth floor of the MB Building, faculty and facilities experts worked closely with acoustician Steve Davidson.
"None of the walls are at right angles," says Paul Fournier, Manager of Planning and Academic Facilities for the Fine Arts Faculty, pointing to the panels that wing, undulate and slope around and above each room. These panels, quieter ventilation systems encased in bulkheads and double exterior walls were among the elements Davidson suggested to ensure the purity of sound produced in the seven classrooms, four studios and 19 practice spaces. The latter will be available 24/7 for students to work in, individually or in groups.
Some classroom walls have built-in storage under the bulkheads and sound muffling panels line interior walls. Exterior walls have heavy drapery to cover hard/flat glass windows. Even the extrawide student lockers (to accommodate guitars or tubas) were installed with rubber fixtures to absorb the noise of random slams.
Each room has doors heavy enough to require four or five hinges and walls made of cinderblocks, encased in multiple layers of drywall. The space lost to extra-thick walls is more than made up for by the quality of the acoustics in the classrooms, four of which can function as makeshift recording studios and are also connected to a recording control room to feed into multi-channel mixers.
Theatre and Contemporary Dance facilities moved to the seventh floor of the MB Building from Loyola last year, when their digs were no longer available (see Journal, Sept. 17, 2009).
The relocation project, funded primarily through the Knowledge Infrastructure Program, has also allowed the department to purchase new equipment and instruments, including 21 new upright pianos and six grand pianos including a Steinway. Fine Arts Advisory member Erin Hogg, worked with Advancement to direct her annual donation toward this project. She generously supplied 12 keyboards to outfit a single classroom, a first for the university.
Hear what our music department can do.
Special Individualized Program PhD candidate Anna Szpilberg (also part-time Music Department faculty member) and Special Individualized Program graduate Pamela Korman perform Witold Lutoslawski's Paganini Variations for two pianos. Recorded by Music Professor Mark Corwin, Oscar Peterson Concert Hall, 2008.
---