notice
CALL FOR PROPOSALS - EDUCATION AND VITALITY FORUM 2023 // APPEL DE PROPOSITIONS - FORUM SUR L'ÉDUCATION ET LA VITALITÉ 2023
Enhancing Quebec's English-Language Education Network Through Collaboration // Favoriser la collaboration pour améliorer le réseau de l'éducation en langue anglaise au Québec
Education and Vitality Forum 2023
Enhancing Quebec's English-Language Education Sector Through Collaboration
Deadline to submit proposals: 17 April 2023
Forum dates: 2-3 November 2023
Forum venue: Concordia University Conference Centre, Montreal (Quebec)

This forum will focus on current concerns and strategies for an inclusive and quality English-language education system. The Forum provides a space for researchers, education practitioners, community stakeholders, policy-makers, and various audiences to share information, research, and best practices.
Want to submit a proposal?
You are invited to submit a proposal for one (or more) of the following:
Lightning talk
Regular presentation (on research, best practices, etc.)
Poster presentation
Roundtable (panel discussion)
Workshop
Forum sur l'éducation et la vitalité 2023
Favoriser la collaboration pour améliorer le réseau de l'éducation en langue anglaise au Québec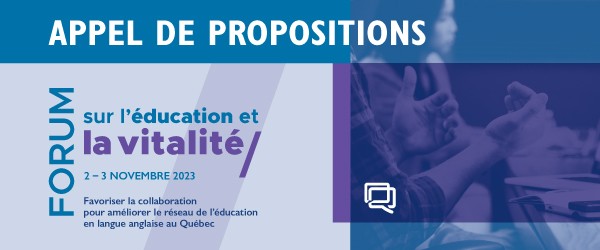 Date limite pour soumettre la proposition : lundi 17 avril 2023
Dates du forum : 2 au 3 novembre 2023
Lieu du forum : Centre des congrès de l'Université Concordia, Montréal (Québec)
Langue : Des séances en anglais et en français sont prévues.

Ce forum portera sur les préoccupations et les stratégies actuelles pour un système d'éducation en langue anglaise inclusif et de qualité. Le forum offre un espace aux chercheurs, aux praticiens de l'éducation, aux intervenants communautaires, aux décideurs politiques et aux diverses publics présents afin de partager les connaissances, les recherches et les meilleures pratiques reliés dans le domaine de l'éducation.
Souhaitez-vous soumettre une proposition pour le forum ?
Vous êtes invités à soumettre une proposition pour une (ou plusieurs) des activités suivantes :
ateliers
communications par affiche
présentations éclairs
présentations de résultats de recherche ou d'initiatives en matière d'éducation
tables rondes
---