notice
New QUESCREN Working Paper on Writing a People's History of English-Speaking Quebec
"People's History of English-Speaking Quebec: A Community-Based History Project for the Vitality of an Official Language Minority" by Dr. Lorraine O'Donnell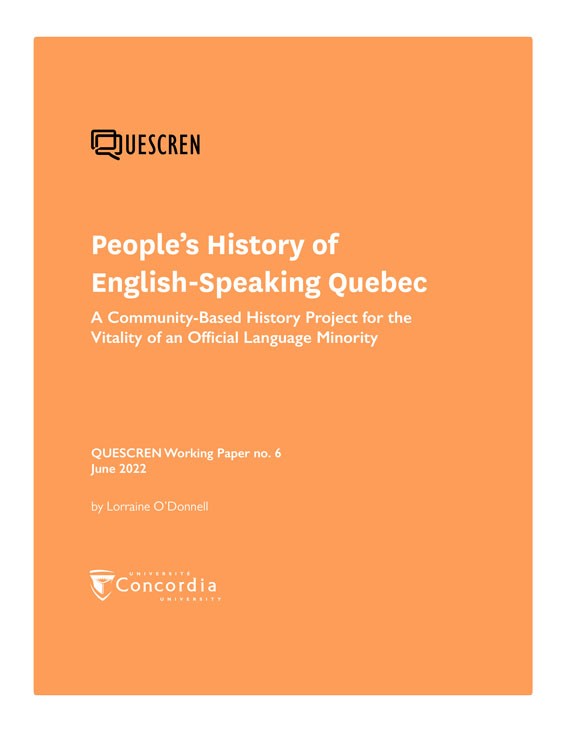 The "People's History of English-Speaking Quebec" project involves generating and disseminating new knowledge of understudied, sometimes marginalized community groups serving English-speaking Quebec. It does so through engaging with scholarship on people's history, community-based action research, and how heritage relates to community vitality and well-being. The project will bring to light aspects of daily life, diverse regions and social groups, working people and poverty, social engagement, and relations with Francophones.
You can read the full paper here.
//
Le projet « People's History of English-Speaking Quebec » consiste à générer et à diffuser de nouvelles connaissances sur les groupes communautaires peu étudiés, parfois marginalisés, qui desservent le Québec anglophone. Pour ce faire, il s'appuie sur des études sur l'histoire populaire, sur la recherche-action communautaire et sur les liens entre le patrimoine et la vitalité et le bien-être des communautés. Le projet mettra en lumière des aspects de la vie quotidienne, des régions et des groupes sociaux divers, des enjeux de travail et de pauvreté, de l'engagement social et des relations avec les francophones.
Le document est disponible ici (en anglais seulement).
---