notice
LTK Award of Excellence 2012
Congratulations to Ms Irene Tsimiklis, a Cycle 1 teacher from Hillcrest Academy (SWLSB) who is the second recipient of the LTK Award of Excellence.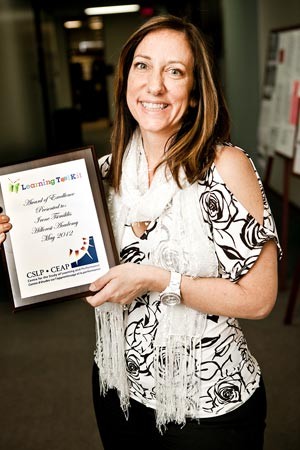 Excerpt from the nomination letter: "Irene has been a passionate user of both ABRACADABRA and ePEARL with her grade one/two classrooms for about six years now, and she has thoroughly and effectively integrated these two tools throughout her teaching. Irene's ELA lessons reflect a balanced literacy approach, using centres to support each of the skills important to the acquisition of reading.... Her innovative approach in integrating the LTK in her classroom has captured our attention. Irene looks for new and creative ways to engage her students when it comes to the SRL processes, offering them exciting opportunities to learn more about other subject matters through reading and writing...."
The award was presented by Anne Wade (Manager, CSLP) to Ms. Tsimiklis at the LTK Swap and Share Day on May 11, 2012.
---