Community events, Workshops & seminars
Conversations amongst the cornstalks
Kanyʌhtake·lu̲ Rebecca Webster and Rae Skye Katsi'tsaronkwas Brooke Rice on cultivating collaboration, reciprocity and responsibility
---
DATE & TIME
Wednesday, November 22, 2023
12 p.m. – 2 p.m.
Registration is closed
SPEAKER(S)
Kanyʌhtake·lu̲ Rebecca Webster, Rae Skye Katsi'tsaronkwas Brooke Rice
WHEEL CHAIR ACCESSIBLE
Yes
---
Join us for a dialogue rooted in the spirit of kinship and wise counsel. You'll meet two inspiring seed savers, farmers and community leaders who are learning from the land, their communities and traditional stories about how to work together in collaboration to build strong, sovereign and healthy communities grounded in relationship and mutual responsibility.
We invite you to register here.
Kanyʌhtake·lu̲ Rebecca Webster is an Oneida tribal citizen, seed saver and one of the members of Ohe·láku, a co-op of Oneida families that grow Iroquois white corn together. She is the Executive Director of Ukwakhwa (Our Foods), a nonprofit that served to educate community members about growing and preparing Indigenous foods. She teaches at the University of Minnesota Duluth in the Department of American Indian Studies and previously served as an attorney for her tribe for 13 years, protecting the Oneida nation's right to self-determination. Her journey weaves together reconnections with ancestral foods and teachings about traditional governance systems to enact and celebrate a vision of Indigenous sovereignty centering reciprocity and responsibility.
Rae Skye Katsi'tsaronkwas Brooke Rice is one of the stewards of the Tka:nios project, bringing together intergenerational knowledge of food foraging, growing, harvesting and hunting to nourish the Kahnawake community's connections with traditional foodways. In collaboration with community members and with the support of partners at Concordia, Brooke hopes to grow the Tka:nios project into a vibrant community food hub that will serve her community for many generations to come.
The SHIFT Kinship & Counsel Speaker Series is a new resource offered to the SHIFT Learning Community, where one of our project teams invites an inspiring mentor, kindred spirit or collaborator to visit their project. In addition to spending time with the project team to support their work, the invited guest offers a public talk to the wider SHIFT community to expand our collective learning and widen our perspectives on social transformation.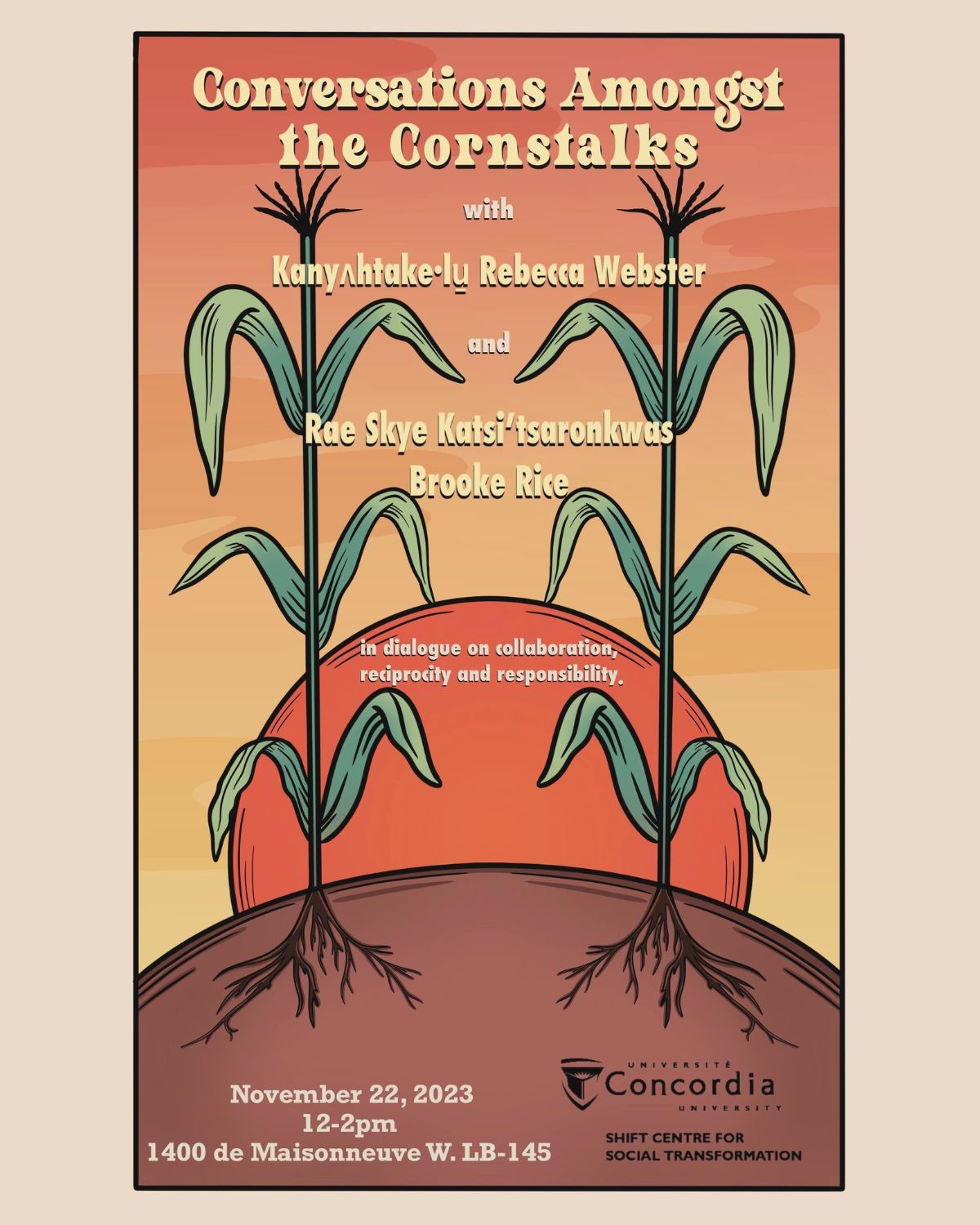 ---
---