Arts & culture
Panel on Creative Reuse / Table ronde sur la réutilisation créative
---
DATE & TIME
Friday, September 29, 2023
11 a.m. – 1 p.m.
SPEAKER(S)
Suzanne Carte, Merlin Heintzman Hope, Arrien Weeks
WHEEL CHAIR ACCESSIBLE
Yes
---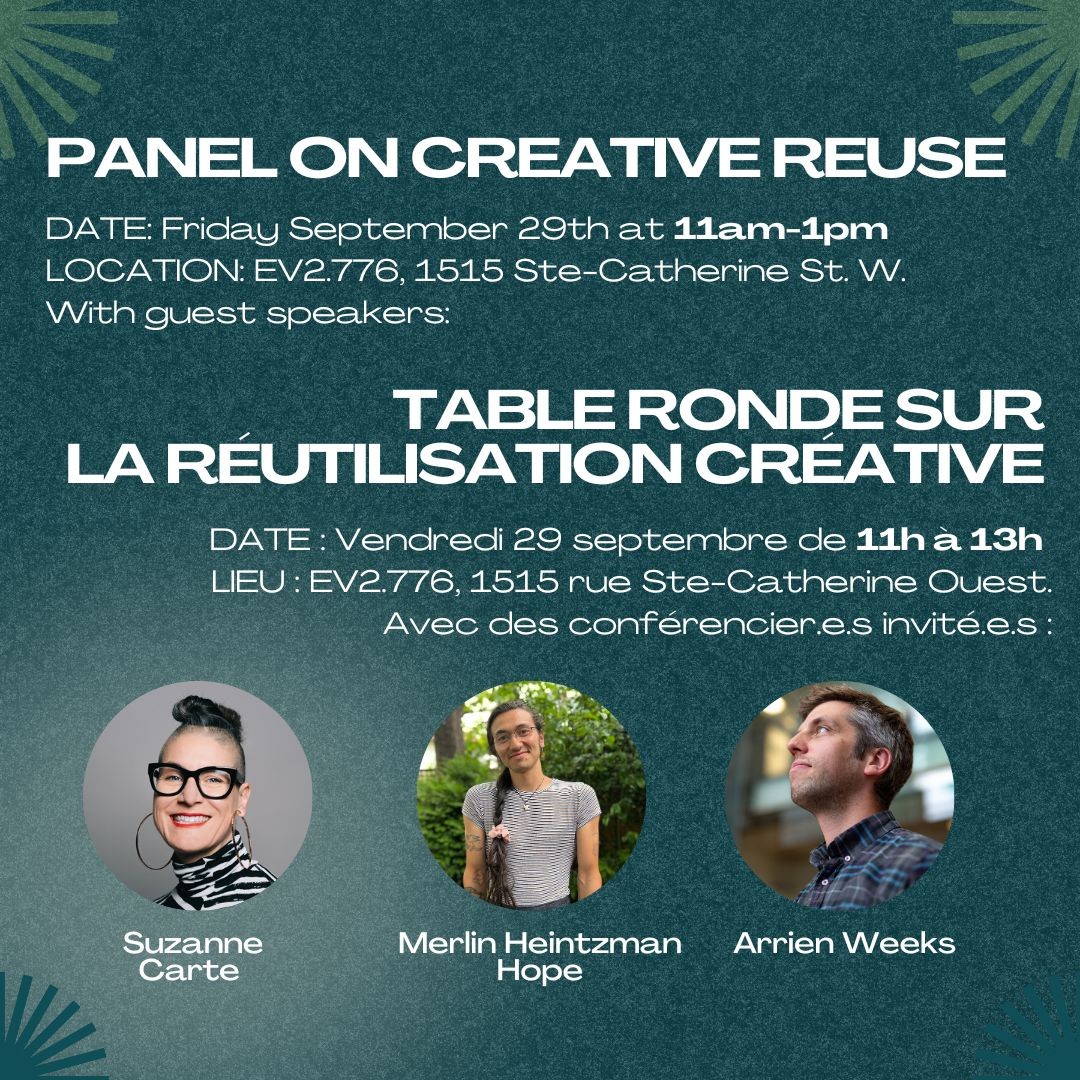 As part of the FOFA Gallery's ongoing sustainability programming, this panel brings together creative practitioners Suzanne Carte, Arrien Weeks, and Merlin Heintzman Hope who all work around themes of sustainability and the arts, with a focus on repurposing, salvaging, and reusing existing materials. Join us for a lively conversation, where panelists will discuss how they each think through sustainable strategies in their respective practices, projects, and workplaces.
This project is offered with support from: the Canada Council for the Arts Strategic Innovation Fund Seed Grant; Concordia University's Centre for Creative Reuse (CUCCR); the Centre for Sustainable Curating at Western University; and the Sustainability Action Fund.
Merlin Heintzman Hope is a neurodivergent Chinese-Canadian, interdisciplinary artist, and parent of two human children. He currently lives and works in Tiohtià:ke/Mooniyang/Montréal. He holds a BFA from Concordia University and graduated in 2019 with a focus on painting and drawing. There, he sat on the board for the VAV gallery, showed and facilitated for the Art Matters Festival, and co-founded the performance series Open Action Night.

Heintzman Hope has exhibited and performed in Vancouver, Montreal, San Francisco, and London (UK). His practice revolves around the use of and access to public spaces, and the emotional charges these spaces can or may carry. He has worked on projects supported by Art Souterrain, LA SERRE - arts vivants, Collar Works (NY), Jeunes Volontaires, Entractes Festival, Art Volt Collection x Art POP performance series, Atelier La Coulée, and is currently working with the City of Montreal, the SéM, and the Maison de Culture Janine-Sutto on a new work called Club Répare, a project dedicated to the ongoing care of daily material objects.
About Club Répare:
Club Répare is a free-use community workshop based in Centre-Sud, Montreal. Furnished for regular interventions in the life cycle of daily objects, the workshop is a space dedicated to accessibility, solidarity, experimentation, and creative self-determination.
Using basic woodworking, machine and hand sewing, leatherwork, book and toy repair, bicycle maintenance, and much more, the project proposes acts of repair as possibilities for care, curiosity, currency, and/or connection. They can also become acts of resistance to capitalist consumerism, gentrification, environmental inaction, the de-skilling of the population, and the gendered division of labour.
We take little moments on a regular basis to get together to share knowledge and stories, while we take care of the material objects around us that connect us to a bigger picture.

Suzanne Carte is an award-winning curator and cultural producer living in Toronto, Canada. She is the Senior Curator at the Art Gallery of Burlington (AGB), an institution at the intersection of contemporary art and craft and the founder of the Artist Material Fund. Previously, she was the Assistant Curator at the Art Gallery of York University (AGYU) focusing on the integration of exhibitions and public programming for over a decade. Within her independent practice, she has curated exhibitions in public spaces, artist-run centres, and commercial and public art galleries and previously, she held positions as outreach programmer for the Blackwood Gallery and the Art Gallery of Mississauga, and as professional development and public program coordinator at the Ontario Association of Art Galleries. Suzanne holds an MA in Contemporary Art History from Sotheby's Art Institute in New York and a BFA from the University of Windsor, and she was a member of the 2017 Toronto Arts Council Leaders Lab.
About AMF:
Founded in 2014, the Artist Material Fund (AMF) is a service that relocates material and diminishes waste produced in the art industry, while providing resources for artistic production. Rooted in cooperation and mutual aid, the program supports and promotes the sharing of under-used goods to realize their full, potential value, builds more efficient studios. It's an ad hoc platform that operates outside of the capitalist, consumerist model, and strives to create one viable alternative to the common issue of fiscal precarity and ecological irresponsibility. As an economically and environmentally responsible redistribution centre, the service gives raw workable material another life by collecting materials from cultural institutions across the Greater Toronto and Hamilton Area, making them free and available to artists and individuals in the community.

Arrien Weeks is the Sustainability Technician at Concordia University's Centre for Creative Reuse (CUCCR). He just recently completed his master's in art education where he researched how studio-based fine arts students learn about sustainable material practices at Concordia. Arrien also holds degrees in multidisciplinary design and industrial design. He is a long-standing member of the sustainability community at Concordia and has lectured on sustainable design here, at McGill and Dawson College. Arrien has been running his own multidisciplinary sustainable design consultancy for over 10 years in Montreal. He is a builder, gardener, forager and cook.
About CUCCR:
Concordia University's Center for Creative Reuse (CUCCR) is dedicated to diverting usable materials from inside Concordia's waste-stream and offering them to the general community free of cost. This waste diversion project has an impact, not only by making materials accessible to everyone but also by contributing to a culture-shift around sustainability and reuse across campus and beyond.
______
Dans le cadre de la programmation en cours de la Galerie FOFA sur le développement durable, ce panel réunit les créateur.trice.s Suzanne Carte, Arrien Weeks et Merlin Heintzman Hope qui travaillent autour des thèmes du développement durable et des arts, en mettant l'accent sur la réutilisation, la récupération et la réutilisation des matériaux disponibles. Rejoignez-nous pour une conversation animée, au cours de laquelle les panélistes discuteront de la manière dont ils envisagent les stratégies durables dans leurs pratiques, projets et lieux de travail respectifs.

Ce projet est possible grâce au soutien de: la subvention Fonds d'innovation stratégique : subventions pour Semer du Conseil des Arts du Canada; le Centre for Creative Reuse (CUCCR) de l'Université Concordia ; le Center for Sustainable Curating de l'université Western; et le Sustainability Action Fund de l'Université de Concordia.

Merlin Heintzman Hope est un Canadien-Chinois neurodivergent, un artiste interdisciplinaire et le parent de deux enfants humains. Il vit et travaille actuellement à Tiohtià:ke/Mooniyang/Montréal. Il est titulaire d'un baccalauréat en beaux-arts de l'Université Concordia et a obtenu son diplôme en 2019 avec une spécialisation en peinture et en dessin. Il y a siégé au conseil d'administration de la galerie VAV, a exposé et animé le festival Art Matters, et a cofondé la série de performances Open Action Night.

Heintzman Hope a exposé et performé à Vancouver, Montréal, San Francisco et Londres (Royaume-Uni). Sa pratique s'articule autour de l'utilisation et de l'accès aux espaces publics, et des charges émotionnelles que ces espaces peuvent porter. Il a travaillé sur des projets soutenus par Art Souterrain, LA SERRE - arts vivants, Collar Works (NY), Jeunes Volontaires, Entractes Festival, Art Volt Collection x Art POP performance series, Atelier La Coulée, et travaille actuellement avec la ville de Montréal, le SéM, et la Maison de Culture Janine-Sutto sur une nouvelle œuvre intitulée Club Répare, un projet dédié à l'entretien continu des objets matériels quotidiens.
À propos de Club Répare:
Le Club Répare est un atelier communautaire à usage libre situé dans le Centre-Sud de Montréal. Meublé pour des interventions régulières dans le cycle de vie d'objets quotidiens, l'atelier est un espace dédié à l'accessibilité, à la solidarité, à l'expérimentation et à l'autodétermination créative.

En utilisant le travail du bois, la couture à la machine et à la main, le travail du cuir, la réparation de livres et de jouets, l'entretien de bicyclettes et bien plus encore, le projet propose des actes de réparation comme des possibilités de soins, de curiosité, de monnaie d'échange et/ou de connexion. Ils peuvent également devenir des actes de résistance au consumérisme capitaliste, à l'embourgeoisement, à l'inaction environnementale, à la déqualification de la population et à la division sexuée du travail.

Nous prenons régulièrement de petits moments pour nous réunir et partager nos connaissances et nos histoires, tout en prenant soin des objets matériels qui nous entourent et qui nous relient à une image plus vaste.

Suzanne Carte est une conservatrice et productrice culturelle renommée qui vit à Toronto, au Canada. Elle est la commissaire principale de l'Art Gallery of Burlington (AGB), une institution à l'intersection de l'art contemporain et de l'artisanat, et la fondatrice de l'Artist Material Fund. Auparavant, elle a été conservatrice adjointe à l'Art Gallery of York University (AGYU), où elle s'est concentrée sur l'intégration des expositions et la programmation publique pendant plus de dix ans. Dans le cadre de sa pratique indépendante, elle a organisé des expositions dans des espaces publics, des centres d'artistes autogérés et des galeries d'art commerciales et publiques. Auparavant, elle a occupé des postes de coordonnatrice à la médiation culturelle à la Blackwood Gallery et à la Art Gallery of Mississauga, et de coordinatrice du développement professionnel et des programmes publics à l'Association des galeries d'art de l'Ontario. Suzanne est titulaire d'une maîtrise en histoire de l'art contemporain du Sotheby's Art Institute de New York et d'un baccalauréat en beaux-arts de l'Université de Windsor. Elle a été membre du Toronto Arts Council Leaders Lab en 2017.
À propos de AMF:
Fondé en 2014, l'Artist Material Fund (AMF) est un service qui relocalise le matériel et diminue les déchets produits dans l'industrie de l'art, tout en fournissant des ressources pour la production artistique. Enraciné dans la coopération et l'entraide, le programme soutient et promeut le partage de biens sous-utilisés pour réaliser leur pleine valeur potentielle, construit des studios plus efficaces. Il s'agit d'une plateforme ad hoc qui fonctionne en dehors du modèle capitaliste et consumériste, et qui s'efforce de créer une alternative viable au problème commun de la précarité fiscale et de l'irresponsabilité écologique. En tant que centre de redistribution économiquement et écologiquement responsable, le service donne une nouvelle vie aux matériaux bruts exploitables en collectant des matériaux auprès des institutions culturelles de la région du Grand Toronto et de Hamilton, et en les mettant gratuitement à la disposition des artistes et des particuliers de la communauté.

Arrien Weeks est technicien en durabilité au Centre for Creative Reuse de l'Université Concordia. Il vient de terminer sa maîtrise en enseignement des arts, dans le cadre de laquelle il a étudié la façon dont les étudiants en beaux-arts qui travaillent en studio apprennent les pratiques durables en matière de matériaux à l'Université Concordia. Arrien est également diplômé en design multidisciplinaire et en design industriel. Il est un membre de longue date de la communauté du développement durable à Concordia et a donné des conférences sur le design durable ici, à McGill et au Collège Dawson. Depuis plus de 10 ans, Arrien dirige son propre cabinet de conseil multidisciplinaire en design durable à Montréal. Il est bâtisseur, jardinier, fourrageur et cuisinier.
À propos de CUCCR:
La mission du Centre de réutilisation créative de l'Université Concordia (CUCCR) est de récupérer des matériaux utilisables du flux de déchets de Concordia et de les offrir gratuitement à l'ensemble de la communauté. Ce projet de détournement des déchets a un impact, non seulement en rendant les matériaux accessibles à tous, mais aussi en contribuant à un changement de culture autour de la durabilité et de la réutilisation sur le campus et au-delà.
---