Workshops & seminars
Indigenous Comedy & Storytelling with Stephanie Pangowish
Feminism and Comedy at Concordia Speaker Series 2021
Date/time change
---
DATE & TIME
Thursday, April 1, 2021
3 p.m. – 4 p.m.
SPEAKER(S)
Stephanie Pangowish
ORGANIZATION
Feminism and Comedy Working Group
---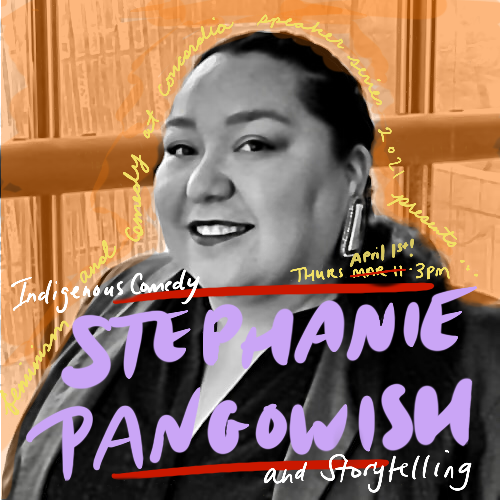 Stephanie will be sharing some of her research with us on Indigenous humour, healing and resilience, and has generously provided us with some suggested resources (available via email upon request) ahead of the talk. Q+A to follow.
To register, please email: kay.pettigrew@mail.concordia.ca
Zoom meeting details to be shared with confirmation of registration.
About the speaker
Stephanie Pangowish is a sassy yet classy Anishinaabekwe from Wiikwemkoong on Manitoulin Island. She is an active community member, stand-up comedian, Northern Style Women's Traditional dancer, educator, backup singer and an avid beader. Stephanie obtained her western education at Trent University, taking Indigenous Studies where she barely passed. NDNs studying NDNs. Currently working on her Master's in Education, she continues to learn from her children, family, and community.
Many thanks to the sponsors:
Women's Studies Students Association (WSSA)
QPIRG Concordia
Office of the Vice President, Research and Graduate Studies
Office of the Dean, Faculty of Arts and Science


---