Arts & culture
Keep Performing: a movement workshop + talk
---
DATE & TIME
Friday, April 28, 2023
2:30 p.m. – 5:30 p.m.
SPEAKER(S)
Dr. Camille Renarhd
WHERE
Studio 303, Belgo Building
372 Sainte-Catherine O, Montreal
---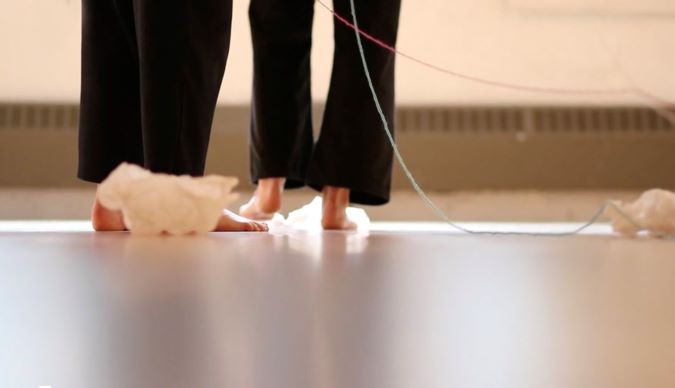 Artist-researcher Camille Renarhd is completing her second year of postdoctoral research at the Centre for Interdisciplinary Studies in Society and Culture (CISSC) and is offering a moment of encounter, exchange, and practice to share her work.
This three-hour workshop, open to anyone interested in movement and vocal improvisation and embodied research, will be an opportunity to practice Keep Performing, an improvisation structure developed by Camille Renarhd as part of her postdoctoral research.
Keep Performing interweaves dance, acting, oral dialogue, and creative writing. This structured practice is an invitation to dissolve the boundaries between theory and practice, and to invent ways of thinking-creating together.
Listening to a multitude of languages, valueing micropolitical knowledge, caring, fostering collective creativity and experience, are some of the avenues we will explore. An open discussion with musician Oscar Coyoli and dancer Mathi(lde) Loslier Pellerin, who both participated in the exploration of Keep Performing, will follow the workshop.
About the speakers
Camille Renarhd is a transdisciplinary artist and a postdoctoral fellow with the Centre for Interdisciplinary Studies in Society and Culture at Concordia. Her works explore the intersections between ecology, embodiment, somatic, sound, and ritual performance. She holds a PhD in Art Studies and Practices (UQAM, U of A). Her research is supported by the FRQSC and SSHRC.

Mathi(lde) Loslier Pellerin is a Somatic artist in living art who questions the various postures of bodily engagement in their relationships to tangible and imagined spaces. They navigate through dance, Continuum, (eco)somatics, writing, facilitation, Thai massage and performance to find in the experience of the body a deep engagement with the world around them. They are currently pursuing a Master in dance studies at UQAM, where they explores attention to sensation as a tool for activism.
Oscar Coyoli draws on the Mexican song tradition in the project "Coyoli" (coyoli.bandcamp.com. He is interested in the encounter of different voices/languages/cultures/technologies – as in his project "Mar de Sombra" (mardesombra.bandcamp.com). He also explores his Nahuatl identity roots (his name means "bell" in Nahuatl), uncovering the ones that lie below the layers of colonial culture in his experimental work done under the name of Soledad Rosas. Since arriving in Tiohtiá:ke/Mooniyang/Montreal, he has found a new direction in his work: the voice and the body as unique, singular and unrepeatable territory as well as fluid, mysterious, mutant and collaborative material. Coyoli examines mixed musical and corporeal territories, searching for a root — a nepantla — a Nahuatl word meaning "the land in the middle", which he can call "his home".
---