Alumnus/Alumna profile
Chelsea Vergerio
Bachelor of Commerce 15
Major Management, Minor Financial Reporting
Certificate in Adult Education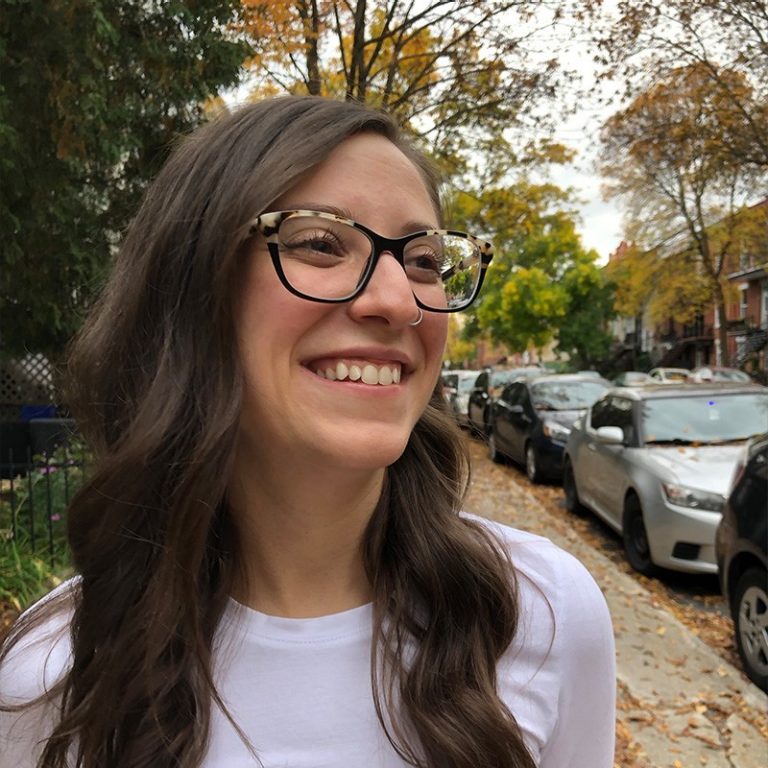 Meet the Concordia grad who helps entrepreneurs master point-of-sale technology
Chelsea Vergerio found her path by teaching others
Though she landed a job in her field at the Royal Bank of Canada shortly before graduating from Concordia, just a few years later, Chelsea Vergerio, BComm 15, Cert 18, made what some might consider to be a risky — or courageous — career move: she left her job to go back to school full time.
Vergerio, who is a graduate of both the John Molson School of Business and the Faculty of Arts and Science, now works as a product specialist at Lightspeed, an e-commerce business that specializes in point-of-sale technology. She was approached by the company on LinkedIn shortly after completing her certificate program because her profile was a perfect match for the job.
What made you decide to pursue the Adult Education program?
I realized that I didn't want to do what I was doing anymore and started thinking about the classes that I had enjoyed during my degree. They mostly revolved around human resources, as well as learning and development, so I started looking for jobs in those fields.
I ended up working for a large company that works with clients like Rogers and Bell in an administrative role, where I had the opportunity to observe people who were facilitating training programs and designing the content for them. That's when I realized that that was what I wanted to be doing.
That kind of move would have been difficult without further education. It made sense to get a better understanding of how people learn, as well as what motivates learners.
Was that when you first considered teaching?
When I was younger I wanted to be a teacher, but I talked myself out of it. Growing up, I wasn't particularly drawn to teaching kids and I didn't think about adult teaching opportunities. I'm now teaching adults every day, yet in a very different way.
I teach remote learners all over the world — people who are small-business owners and are coming to the training with their own knowledge and/or insecurities. Whether it's for a new small restaurant they just opened or a big chain, I teach them how to use the platform.
What advice do you have for current students?
My advice would be to know what you enjoy and find a way to turn it into work. Don't rule anything out. Working in education is very flexible and you don't have to be the master of one topic. You can be a master of education. I'm working in the field of education at a technology company, in hospitality, so teaching doesn't have to be one thing. A certificate program was the perfect transition for that.
What was the best part about your program?
The certificate was the perfect stepping stone to move into the field that had called to me since I was a kid. It has a good mix of concrete content and the philosophical approaches to learning. There were really great professors as well. I feel the same about my bachelor's degree; the professors had so much hands-on experience and industry knowledge. That's what I most appreciated about the program, so it's the same approach I use in my teaching: sharing my experience in the industry.