A Page from the Wonders of Life on Earth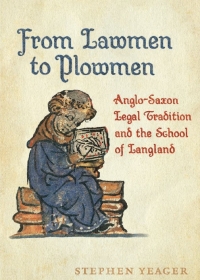 The reappearance of alliterative verse in the fourteenth and fifteenth centuries remains one of the most puzzling issues in the literary history of medieval England. In From Lawmen to Plowmen, Stephen M. Yeager offers a fresh, insightful explanation for the alliterative structure of William Langland's Piers Plowman and the flourishing of alliterative verse satires in late medieval England by observing the similarities between these satires and the legal-homiletical literature of the Anglo-Saxon era.
Unlike Old English alliterative poetry, Anglo-Saxon legal texts and documents continued to be studied long after the Norman Conquest. By comparing Anglo-Saxon charters, sermons, and law codes with Langland's Piers Plowman and similar poems, Yeager demonstrates that this legal and homiletical literature had an influential afterlife in the fourteenth-century poetry of William Langland and his imitators. His conclusions establish a new genealogy for medieval England's vernacular literary tradition and offer a new way of approaching one of Middle English's literary classics.