Esti toastée des deux bords. Les formes populaires de l'oralité chez Victor-Lévy Beaulieu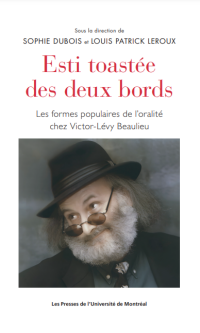 In French. Edited by Sophie Dubois and Louis Patrick Leroux.
A collection of essays on prolific and, at times, controversial Québec novelist, essayist, publisher, playwright and screenwriter Victor-Lévy Beaulieu. Beaulieu has written 80 novels, plays and non-fiction books; 70 radio plays and documentaries; and 550 prime-time television episodes, yet his production has not been studied as closely and extensively as one would expect. The title draws from an expression known by an entire generation and popularized by Junior, a character who appeared in L'Héritage, Beaulieu's iconic series from the late 1980s. Drawing his language from populist slang and subverting it through poetic and performative dialogue, Beaulieu elevates his lowly, marginalized characters to mythic proportions. This collection examines the works from his oeuvre that have been steeped in orality and have mass-appeal, from radio and television to journalism, tales, biographies, and Facebook posts.
Publisher : Presses de l'Université de Montréal, 2022
Corps scéniques, textes, textualités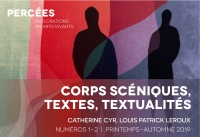 In French. Edited by Catherine Cyr and Louis Patrick Leroux. Inaugural double issue of Percées: Explorations en arts vivants (formerly L'Annuaire théâtral). The collected articles are the result of a five-year exploration into writing the body the Bodytexts/Textualités du corps research lab which drew artists and scholars together to better understand the creative processes, narrative structures and textual influences and interferences in physical theatre, dance, theatre and performance. https://percees.uqam.ca/fr/ticket/corps-sceniques-textes-textualites
Publisher: Percées (SQET/UQAM), 2020.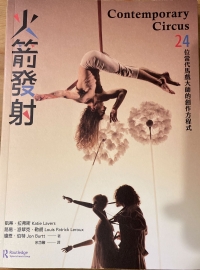 Chinese language translation of Contemporary Circus (2019) by Katie Lavers, Louis Patrick Leroux and Jon Burtt. See full description below.
Publishers Bookman and Weiwuying - National Kaohsiung Center for the arts, 2021.
"Contemporary Circus" By Katie Lavers, Louis Patrick Leroux and Jon Burtt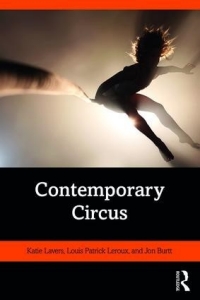 In this volume, twenty-four creators come together with three scholars to discuss Contemporary Circus, bridging the divide between practice and theory. Lavers, Leroux, and Burtt offer conversations across four key themes: Apparatus, Politics, Performers, and New Work. Extensively illustrated with fifty photos of Contemporary Circus productions, and extensively annotated, Contemporary Circus thematically groups and contextualises extracts of conversations to provide a sophisticated and wide-ranging study supported by critical theory.

Conversations with: Lachlan Binns and Jascha Boyce (Gravity and Other Myths), Tilde Björfors (Cirkus Cirkör), Kim 'Busty Beatz' Bowers (Hot Brown Honey), Shana Carroll (The 7 Fingers), David Clarkson (Stalker), Philippe Decouflé (Compagnie DCA), Fez Faanana (Briefs), Mike Finch (Circus Oz), Daniele Finzi Pasca (Compagnia Finzi Pasca), Sean Gandini (Gandini Juggling), Firenza Guidi (ElanFrantoio, NoFit State Circus), Jo Lancaster and Simon Yates (Acrobat), Johann Le Guillerm (Cirque Ici), Yaron Lifschitz (Circa), Chelsea McGuffin (Company 2), Phia Ménard (Compagnie Non Nova), Jennifer Miller (Circus Amok), Adrien Mondot (Compagnie Adrien M. et Claire B.), Charlotte Mooney and Tina Koch (Ockham's Razor), Philippe Petit (high wire artist), and Elizabeth Streb (STREB EXTREME ACTION).
Routledge, 2019.

Sandeep Bhagwati and French translation by Louis Patrick Leroux. Bilingual edition of "Niemanslandhymnen, a Treize of Terze Rime"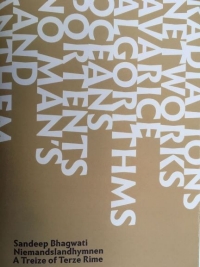 French translation of 13 symphonic poems by composer and director Sandeep Bhagwati's ritual performance for 10 singers and musicians, live-electronic sounds, ambient light and new technologies. The 13 poems explore no man's lands of different kinds: winds, algorithms, clouds, radiation, diasporas, creating trans-sensory anthems that explore the many resonances in our globalized existence. Performed at Usine C and commissioned by Société de musique contemporaine du Québec.
matralab, 2017.

False Starts : A Subterfuge of Excellent Wit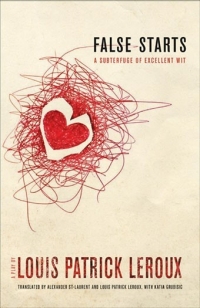 Translated of Dialogues fantasques pour causeurs éperdus by Alexander St-Laurent, Louis Patrick Leroux & Katia Grubisic. Introduction by & Jenn Stephenson & Nicole Nolette
False Starts presents a series of determining moments between two people stuck reliving the same moment over and over, but in unexpected ways and in different genres (from diary to dramatic dialogue, film script to sound installation). Their interdependence and fundamental inability to say how they feel for one another over twenty years – in spite of their eloquence, in spite of their creativity – constitutes the background of the ongoing spectacle of their relationship.

Made up of a series of short pieces originally published in French as Dialogues fantasques pour causeurs éperdus, this translation by the author and Alexandre St-Laurent with Katia Grubisic, also offers previously unpublished texts. Originally staged for the stage, screen, and elevator at Montreal's matralab.
Talonbooks, 2016.

Ludwig & Mae & le livreur de chinois, le pape déjanté, la vache à Giacometti, la Muse déchue et le choeur d'anges étrangement nubile; mais aussi le père, le pauvre père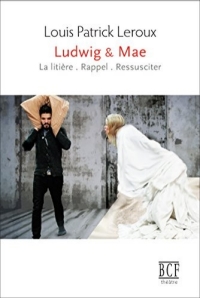 New, expanded and revised edition of Imposions on the 20th anniversary of its publication. Included in the "BCF – Bibliothèque canadienne-française" collection of significant previously published French Canadian literary texts. Introduction by Nicole Nolette, includes critical reception and biographical materials.
Prise de parole, 2016.

Cirque Global Quebec's Expanding Circus Boundaries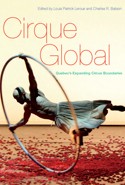 With a billion-dollar industry centred in Montreal, the province of Quebec has established itself as a major hub for contemporary circus. Cirque du Soleil has a global presence, and troupes such as Cirque Éloize and 7 doigts de la main are state-of-the-art innovators. The National Circus School of Montreal - the only state-funded elite training facility in North America - is an influential leader in technique. Montreal-based Cirque du Soleil's Cirque du Monde supports arts for social change on many continents and is renowned for its social-circus training and research.

Cirque Global is the first book-length study of this new variety of circus and its international impact. The contributors offer critical perspectives on this rapidly developing art form and its aesthetics, ethics, business practices, pedagogical implications, and discursive significations. Essays explore creative, entrepreneurial, and cultural forces that are shaping Quebec's dynamic nouveau cirque. Lavishly illustrated with photographs from circus performances, the volume showcases Quebec circus's hybrid forms, which have merged the ethos and aesthetics of European circuses with American commercial and industrial creativity.
Publisher: McGill-Queen's University Press, 2016
Le jeu des positions. Discours du théâtre québécois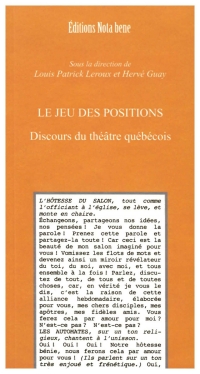 In French. A Play for Position. The Discourse of Québécois Theatre. Co-edited with Hervé Guay.
In a changing scene which has allowed the emergence of individual, singular, artistic practices, what is the actual position of Québec theatre? What is its current discourse? What dominant causes, if any, does it champion? What has become of the previously politically engaged discourse? This collection explores the discursive strategies and positions in contemporary Québec theatre at a time in which theatrical performance wavers between scenic, visual and parataxical writing and its counterpoint, the resurgence of the self-reflective logocentric playwright. Drawing on discourse theory, the essays explore the play for position of various forms of theatre following trends, practices, means of production and under-explored social and esthetic stakes in Québec society. This very play for position forces us to reconsider the existing assumptions and historical discourses with which we have read Québécois theatre.
Publisher: Nota Bene, collection "Séminaires", no. 23, 2014
Dialogues fantasques pour causeurs éperdus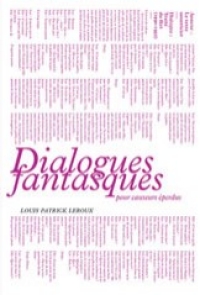 In French. Fantastical Dialogues for Smitten Conversationalists. Eleven pieces each running between two and twenty minutes of length, some of them dramatic dialogue, others prose, screenplay,autofictional exhibitions, some seemingly unattributed lines from fragments of earlier work. The text follows the same two characters throughout. Over the course of their several encounters, over twenty years, they will play out their relationship like a high-risk game in which one must bet the house if one expects to win at all. The more they speak, the more they are ensnared by the impossibility of confessing their fundamental need for one another.
Publisher: Prise de parole, Fall 2012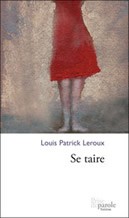 In French. Tongue Tied. Sixteen years ago, Alexandra left her village in shame. Much like Cassandra, she had the gift of prophecy and the horrible curse of never being believed. Her departure leaves a great void, which prompts her aunt Marguerite to try to entice her return by creating a cult devoted to her memory. Christine, a young teenager, dreams of Alexandra's return, "the oracle that disturbs", the "great golden statue" who left the day of her birth, sensing that their destinies are linked. Today, Alexandra has returned home, exhausted, empty. She who once troubled the town with her visions now no longer speaks. Voiceless, she unsettles the villagers more than ever. Why return after sixteen years? Everyone wonders what terrible news is keeping her muted.
Publisher: Prise de parole, 2010
Ludwig & Mae (three plays: Embedded, Apocalypse, and Resurrection), translated by Shelley Tepperman and Ellen Warkenten
In English; La Litière(1994), Rappel (1995) andRessusciter (1996), published together here in English translation as Embedded Apocalypse andResurrection respectively, make up a trilogy of plays featuring Gen-Xers Ludwig and Mae. Ludwig, trained as an engineer, hasn't been able to find work since graduating some time ago. The fact that he is sardonic, philosophically inclined and suicidal hasn't helped in this regard. Mae, on the other hand, is an actress who has never been out of work. Caught in a perverse relationship, she plays into Ludwig's constant mind games until one day she decides she's had enough. Embedded establishes their twisted Strindbergian relationship, while introducing the philosopher-cum-Chinese food delivery guy—the absurdist character who acts as a catalyst for the simmering emotional crisis about to explode. Apocalypse is a monodrama in which Ludwig stages his own suicidal ceremonial (along with unlikely allegorical characters such as a Pope, Giacometti's Cow and a Leather-Clad Muse). Resurrection is Mae's testimonial, where she confronts and reconciles herself with Ludwig's death, breaks the cycle of their co-dependency and finally comes into her own.
Together, these plays literally "stage" the internalized and therefore repressed failure of the search for an authentic life in art: the decorative nihilism of the post-modern ethos. Taking us on a cathartic journey from despair to exhilaration—at times perilous, comic, edgy and passionate—Ludwig & Maereleases its audiences from the artificial dark of the theatre into the liberating light of day, radiant with a new understanding: life does not imitate art, life makes art.
Publisher: Talonbooks, 2009.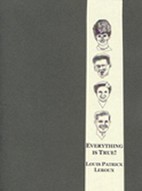 Chapbook. In English. In the moment they say it, everything A, B, C, and D say is absolutely true, even if they end up eventually contradicting themselves. In this strange play where speech overcomes action, characters plot out various dramatic strategies in order to stay alive. They also discover who they are and what others mean to them through the truly absurd.
Publisher: Delirium Press, 2006
Tom Pouce, version fin-de-siècle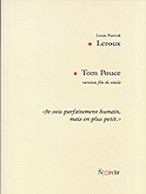 In French. Tom Thumb in the Brave New World.This liberal and disconcerting adaptation of Tom Thumb and Hop o' my Thumb, recounts the adventures and misfortunes of a tiny man who is abandoned by his yuppie parents, is tempted by Ulysses' Sirens, and is threatened by an Ogre. Having fallen in love with the young and dangerous Saloma, he explores the stuttering cow's Levianthan-like entrails before confronting the mighty ridiculous Hercules.
Publisher : Le Nordir, 1997, 2nd edition 2006, now distributed through Prise de parole
Le rêve totalitaire de dieu l'amibe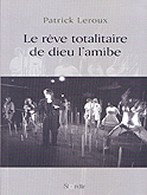 In French. The Despotic Delusions of the amoeba-god, a libretto. Three solitary and vulnerable souls meet online and are soon smitten with a cyber-charlatan who goes by the name of the amoeba-god. Together, they build a despotic doomsday cult. As cubist as it is serial, the cybernetic anti-opera does everything a play should not. Produced on the stage in 1995 and 1996, the anti-opera was published in 2003.
Publisher : Le Nordir; now distributed through Prise de parole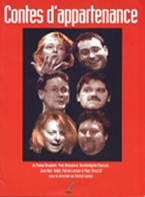 In French. Tales of Belonging. In 1998, six authors accepted Patrick Leroux's challenge to each provide Sudbury with an urban tale. Six cities of the French Canadian diaspora – Vancouver, Edmonton, Winnipeg, Ottawa/Vanier, Montreal, and Moncton – , emerge from the pens of these end-of-the-century storytellers. In these edgy, urban reinventions of the traditional tale, the shopping center replaces the dark and thick forest, the antihero replaces the clever resourceful child, and one cannot always trick the bad buy. The stories are flavoured with urban myths, the surreal, the esoteric, and the imagery is straight out of a David Lynch film or a story by Poe. The tales share a common curious strangeness from which there nevertheless emerges a glint of hope, playing on the layered sense of identity and survival which define the Canadian Francophonie.
Publisher: Prise de parole, 1999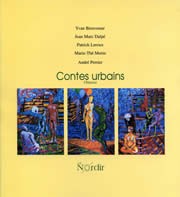 In French. Tall Tales from Ottawa. "In line with the concept developed by Yvan Bienvenue and Stéphane F. Jacques from Théâtre Urbi & Orbi, I commissioned five authors to write a tale of about fifteen minutes, inspired by and set in the nation's capital. I cautioned the authors to avoid monologues and to remember the importance of speech and the intimate relationship with the spectators. (…) Through these urban tales, we are appropriating the space that was left to us; we are naming the places which we occupy. Our city, and the surrounding areas are celebrated. We are thus celebrated, not as extras in the story of another, of the majority, of winners, but as heroes or antiheros of our own stories written in the earth and the concrete of our city."
Publisher: Le Nordir, 1999, now distributed through Prise de parole
Implosions (Dialogue duivi de La Litiere et de Rappel)
Original French version of Embedded andApocalypse. See Ludwig & Mae (2009) for book description. German and Spanish translations ofLa Litière/Embedded available for consultation at Centre des auteurs dramatiques (www.cead.qc.ca).
Publisher: Le Nordir, 1996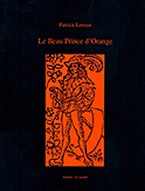 King Billy on His Horse. This bilingual and historical epic unfolds in the 17th century during the English Revolution. William III, the Dutch son of Mary Stuart, upon marrying his first cousin (and mother's namesake) Mary Stuart, takes the English throne in spite of his never having learned to speak the language. A feared warrior, he defends the Protestant religion from both the French Papists and his father-in-law, the Catholic James II. The arranged wedding of William of Orange, an English king of Dutch decent who speaks only French with his English cousin fascinated the Franco-Ontarian author whose memory of the Irish Orangemen's actions against his ancestors, apparently inspired by "King Billy on his horse," didn't quite correspond to the historical characterization of the king.
Publisher: Le Nordir, 1994. Revised edition (2008) available through ADEL: Auteurs dramatiques en ligne, www.adelinc.qc.ca
In French. Resurrection. English translation published in Ludwig & Mae). Ludwig is dead, having died in his beautiful antique bathtub. He is found naked in the hot, red water, clean-shaven body. Mae, his girlfriend of four years, bears witness of the event, probably in order to rid herself of her guilt; maybe also in order to reclaim her own life-story.
Publisher : ADEL, Auteurs dramatiques en ligne, www.adelinc.qc.ca, 2004.
Antoinette et les Humains
In French. Antoine's Cow. Richard and Erica are on the up and up: they are ambitious, headstrong diplomats with the department of external affairs, they have a strong relationship (at least on the surface), and it seems as though the much-anticipated posting in Japan is theirs for the taking. But Richard inherits Antoinette, his favorite uncle's cow, which he'll insist on keeping in their apartment, renewing with pastoral summers past, questioning what's become of his life. The animal will rattle their world and drag them through a bovine journey that will bring them, along with those closest to them, to the end of the world.
Publisher : ADEL, Auteurs dramatiques en ligne, www.adelinc.qc.ca, 2004.
Hypertext and Performance: A Resonant Response to Joanna Baillie's Witchcraft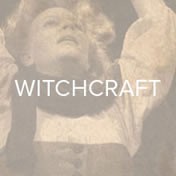 In English. "Hypertext and Performance: A Resonant Response to Joanna Baillie'sWitchcraft" was a three-year FQRSC-funded interdisciplinary theatre project engaging English literature scholars and contemporary theatre research-creation practitioners in studying, performing, and teaching Joanna Baillie's gothic play, Witchcraft in today's hypermedia environment. The website charts the intellectual and creative engagement with the original play and illustrates the creative process over the various workshops and productions. Included are articles, an annotated script of Witchcraft and several short original pieces written in resonant response to the source work. http://resonance.hexagram.ca/witchcraft