Concordia urban planning student competes at the 2020 Summer Olympics in Tokyo
Middleweight boxer Tammara Thibeault wants to be the first Canadian woman to reach the podium in her sport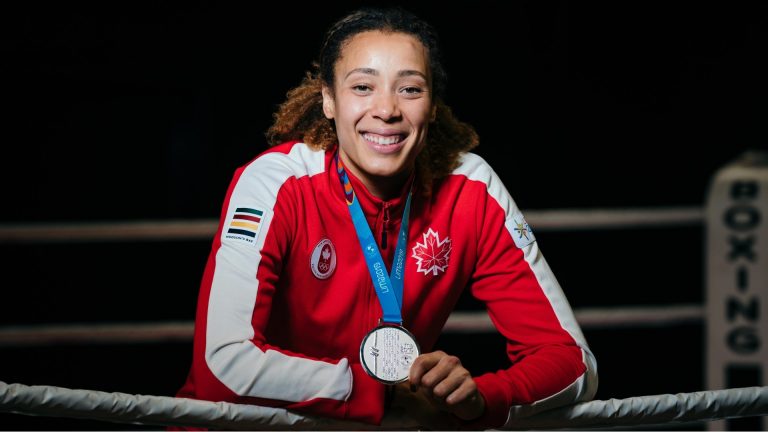 After the International Olympic Committee announced that the 2020 Summer Olympics would be postponed due to the COVID-19 pandemic, athletes around the world were crushed.
But fast forward a year, and the Tokyo games are now set to begin. Among the competitors representing Team Canada is middleweight boxer and Concordia urban planning student Tammara Thibeault.
The 24-year-old was born in Saint-Georges, Quebec, and grew up in Regina. The daughter of former Canadian Football League player Patrick Thibeault, she was raised in a very athletic household, which set the tone for her own goals from an early age.
"My dad was my hero. I just wanted to be like my dad. I wanted something to relate to because he was an athlete," Thibeault told DAZN news in a recent interview.
Her father boxed between his football seasons. Thibeault recalls heading to the boxing gym with her siblings on Fridays and occasionally watching her father's tournaments during her childhood.
Her own boxing journey
Kicking her boxing career off in 2011, Thibeault participated in various tournaments and developed her skills. In 2017, she earned gold at the Canadian championships and at her first senior international tournament, the American Continental Championships. Thibeault represented Canada at the 2018 Commonwealth Games held on the Gold Coast in Queensland, Australia, and won a bronze medal.
Her most recent international achievements are taking home a gold at the 2019 AMBC Pan American Championships in Managua, Nicaragua, and a silver at the 2019 Pan American Games in Lima, Peru, both in the 75 kg weight category.
Now, despite Tokyo's spectator-free environment due to the ongoing pandemic, Thibeault is about to enter the biggest stage yet. The sport of women's boxing was only added to the Olympics in 2012, and since then no one from Team Canada has made the podium.
"I want to bring a gold medal home for Canada and I want to be the first woman to do it," she told Yahoo! News.
It all begins with Thibeault's first match on July 28, when she'll face off against Nadezhda Ryabets of Kazakhstan.
Follow Concordian Tammara Thibeault's Olympic journey in Tokyo, Japan.
Find out more about Concordia's Department of Geography, Planning and Environment.
---