Concordia psychology grad student is awarded a Vanier Canada Graduate Scholarship
Melanie Brouillard is recognized for her work on bilingual upbringings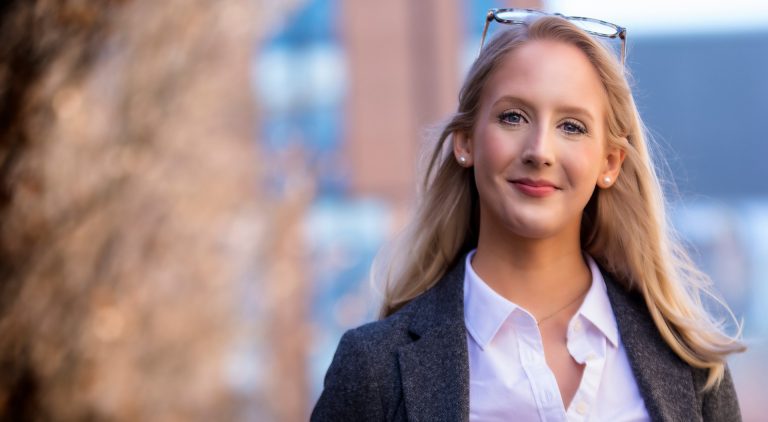 Do you want your kids to become full bilingue?
If so, you're not alone: more Canadians than ever before are choosing to raise their kids in more than one language.
And as the work of Concordia's Melanie Brouillard shows, this decision has all kinds of long-term social and cognitive benefits.
"There is evidence linking bilingualism to improved cognition, higher grades and level of education and better employment opportunities and salaries," says the graduate student in clinical psychology. "Importantly, it is also a way for individuals to stay connected to their cultural heritage and families, and celebrate the diversity that Canada has to offer."
Brouillard's research on bilingual upbringings and the family factors that shape infant language learning recently earned her a prestigious Vanier Canada Graduate Scholarship.
Launched in 2008 to position Canada as a global centre of excellence in graduate research, the Vanier program annually provides up to 166 PhD researchers in the social sciences, humanities, natural sciences, engineering and health with $50,000 per year for three years.
'My path to becoming a Vanier Scholar was not without obstacles'
Tell us about the research project work that led to you winning a Vanier Canada Graduate Scholarship.
Melanie Brouillard: More Canadian parents than ever before are choosing to raise their children bilingually, but not all of these children will become fluently bilingual adults.
The factors at play to successfully transmit two languages are poorly understood, especially during infancy and within the Québécois and Canadian contexts. Our project proposes and tests a new conceptual framework of the family factors during infancy that contribute to bilingual learning outcomes.
Results from this project will help guide educational practices and policy on linguistic minorities and bilingualism, clinical interventions and the development of programs that are more tightly linked to parents' real-world experiences of raising bilingual children.
What does it mean to you to win a Vanier?
MB: My path to becoming a Vanier Scholar was not without obstacles. As a low-income, orphaned kid in an abusive household, I did not have much, but I was good at school and loved learning.
When I was told at the age of 16 that college was too expensive for me, I left home with nothing and figured the world out for myself, juggling minimum-wage jobs throughout my college and undergraduate degrees until I was able to turn my volunteer work into a full-time job as a research coordinator.
The mentorship and encouragement I received at Concordia, particularly from Krista Byers-Heinlein, has been invaluable in supporting me to become the young scholar I am today.
Receiving the Vanier CGS means the world to me: not only does it confirm that I have my place in academia and a prestigious doctoral program, but it allows me to make my alma mater and mentor proud. I hope it can send a message to other disadvantaged students that they have their place in higher education too.
What can we learn specifically from the Quebecois and Canadian contexts or other bilingual countries and areas?
MB: Our bilingual context is quite unique given the relatively balanced importance of French and English here. French has official language status and is supported by the provincial government, while English is also prevalent due to its importance in pop culture and it being an official language nationally. This allows us to study how languages are transmitted in a context where speaking either or both languages is socially valued.
What does the future hold for you? What else will you be working on in the coming months and years?
MB: As part of my training to become a clinical psychologist, I am starting an internship at the Neuropsychology Service of the McGill University Health Centre Allan Memorial Institute this September.
I have also recently had the opportunity to merge my clinical interests and passion for bilingualism in an exciting new project investigating the interaction of bilingualism and attention-deficit/hyperactivity disorder in word learning and executive functioning.

Learn more about the Vanier Canada Graduate Scholarships.
Find out more about Concordia's School of Graduate Studies.
---