Thank you for your interest in the Community Arts Residency Program at Bâtiment 7. The application period is now closed. For questions, please contact us at artvolt@concordia.ca
The Community Arts Residency program aims to support community-based art projects initiated by recent alumni of Concordia University's Faculty of Fine Arts by providing them with financial compensation and access to studio spaces.
We are thrilled to announce that Art Volt and the Office of Community Engagement at Concordia University have formed a partnership to help propel Fine Arts alumni by providing support for the creation of community-based art projects at Bâtiment 7.
Bâtiment 7 is a heritage industrial site located on former CN lands at the southernmost tip of Pointe St. Charles. The site is emerging as a unique model of collectively governed, citizen-led urban design project, home to 16 locally-led community initiatives. The site is also home to an anchored Concordia presence that supports and coordinates the emergence of student involvement, research and programming.
Concordia Fine Arts alumni who are interested in developing a community based art project in conversation with residents of Pointe St. Charles are encouraged to submit applications. Community engagement implies building mutually beneficial relationships, responding to community priorities and valuing and learning from community held knowledge. It also implies centering marginalized voices. These important considerations should be reflected in project proposals.
Consider developing your proposal around themes that connect to urban design experimentation, popular education, community economic development, institutional management and social issues.
Discover past and current projects developed through this residency program.
Selected projects will receive a $2,000 honorarium and $500 to cover additional costs or supplies that are not already included as part of the spaces accessed (transportation costs for participants, honorariums for invited collaborators, catering, etc.). Participants will be asked to spend approximately 100-150 hours on site at Bâtiment 7 developing their community engagement projects in the context of one or more of the studio spaces, interacting with community members, or in supportive cohort-based activities. Beyond this, and in exchange for their work with the community, participants will be encouraged to use the spaces which they have access to in order to contribute to the ongoing development of their personal artistic practice.
All selected participants will attend two focused half-day sessions, over the course of the program in order to allow for coordinated or collaborative arts interventions and to allow participants to offer/gain perspective and support.
At the onset of the program, a half-day training will be provided by the Office of Community Engagement and Bâtiment 7 in order to sensitize participants to community-based arts approaches. Such a training will draw on critical pedagogy, intersectionality, and will familiarize participants to the Bâtiment 7 context, and to its socio-economic mission in relation to the Pointe-St-Charles neighborhood.
Over the course of the program, participants will benefit from support provided by the Office of Community Engagement and the staff responsible for holding its anchored presence on site. OCE staff will be available to meet with participants as needed and will be able to provide mentorship, context-based support and provide references to resources as needed.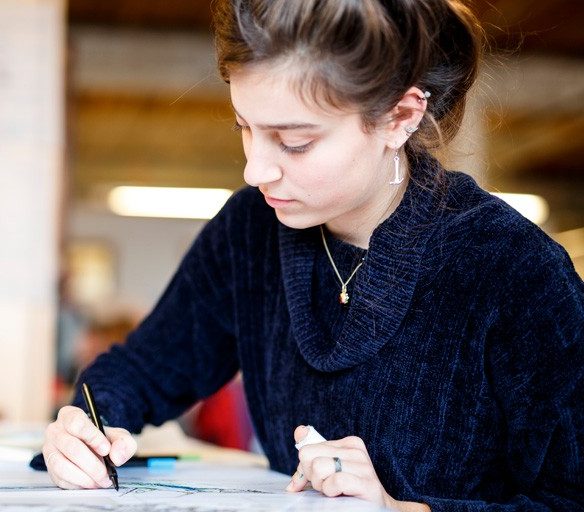 Application criteria
Applicants must be registered for graduation, or have graduated from Concordia University's Faculty of Fine Arts, within the last five years.
Alumni of the Faculty of Fine Arts can apply individually or as a team, working either in the context of a particular studio, or using a multi-disciplinary approach. Applications from collectives are strongly encouraged. Projects can be led strictly by alumni, but can also incorporate other community collaborators.
Application Deadline: Friday, August 28th 2020 at 5 pm
If you have any questions about the Community Arts Residency program, please contact artvolt@concordia.ca. If you would like to schedule a visit of Bâtiment 7, feel free to get in touch at alex.megelas@concordia.ca.
APPLY HERE
VIEW PROJECTS BY RESIDENTS