Concordia's SHIFT Centre for Social Transformation uses cultural mapping to assess its governing structure
The organization is currently recruiting new members to help shape the operational dynamics within its ecosystem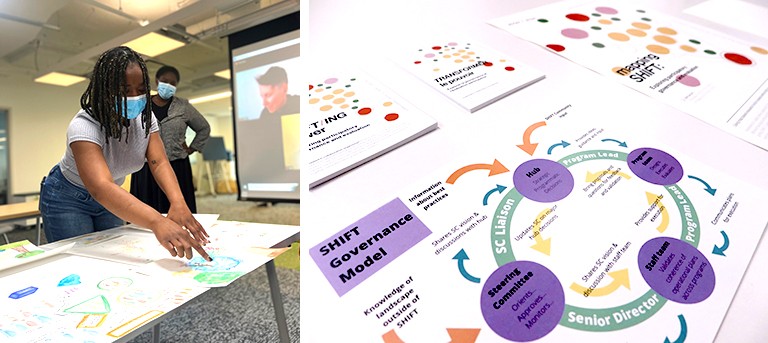 Steering Committee members use cultural mapping to illustrate how they perceive organizational flow within SHIFT.
Concordia's SHIFT Centre for Social Transformation wants to understand how its community members perceive its organizational structure. To do so, it is conducting a cultural mapping evaluation.
"This is an exciting opportunity to test whether cultural mapping can be used as a tool to understand the structure by which resources, knowledge and information travel within the organization," SHIFT coordinator Stephanie Childs explains.
The SHIFT Centre for Social Transformation was created in 2019 with funds donated to Concordia by the Amelia & Lino Saputo Jr. Foundation and the Mirella & Lino Saputo Foundation. Its original vision was to harness the university's resources toward addressing major social challenges, such as access to economic opportunities, systemic racism or climate change.
While the initial focus of the centre was on social innovation, consultations with the community and across the university revealed an interest in representing a broader field of disciplines. The focus shifted toward gathering community members who reflected social issues from a variety of perspectives: people involved in social entrepreneurship and social economy initiatives, community organizing and community development, and social justice and activism work.
"It wasn't so much the idea of trying to coordinate efforts among these diverse groups," Childs says. "Instead we wanted to create a place where initiatives can be informed and influenced by wisdom from a wide spectrum of stakeholders."
In the end, she says, "'social transformation' was used as an aspirational bridging term, with the idea of trying to bring together these diverse perspectives."
How is alternative governance activated at SHIFT?
The aim of SHIFT's alternative governance model is to explore power-sharing within organizational structures. The working theory is that a distribution of decision-making capacity across the organization's diverse membership will better reflect the realities impacting social transformation in Montreal.
The pivotal vehicle of collaborative and participatory organizing is communication. As opposed to hierarchical organizations, where those higher up make decisions for those below, the non-hierarchical governance model allows for decisions to be informed by the experiences and expertise of everyone in the group.
SHIFT also relies on specific program hubs — the funding hub, the Governance Hub and others — in which their members are brought into dialogue about resource distribution and operational orientations.
Participatory and collaborative governance is an ongoing evolutionary process at SHIFT. Its Governance Hub meets regularly to find ways of learning from the broader community, relying on the feedback of members to understand what is working and what needs improvement.
As such, the Governance Hub's primary role is to empower those diverse community voices and opinions, which are instrumental in the centre's administration.
Cultural mapping as a structural tool
Cheryl Gladu (PhD 20), a member of SHIFT's Governance Hub, explains that the cultural mapping exercise itself is divided into two initial phases: drawing and talking. Gladu holds an interdisciplinary doctorate in design and management from Concordia and is currently a researcher-in-residence at Thompson Rivers University in Kamloops, British Columbia.
The initial mapping phase allows community members to draw diagrams of how they perceive the organizational flow within SHIFT. In the following phase, participants interview one another about their diagrams, taking each other on a journey of their respective maps. Researchers then record and analyze these interviews, along with the maps themselves.
In cultural mapping, process counts as much as the results. SHIFT's approach to evaluation provides organizational insight into how members view their roles and the operational dynamics within the centre's ecosystem.
The research method was also an opportunity to initiate a dialogue; by participating in this self-reflection process, community members have engaged in conversations that help establish a common sense of how power and resources flow within SHIFT.
Modelling non-hierarchical governance
SHIFT is leading the way in interrogating how social impact groups within larger institutions can align their organizational structures in support of their own values. Its devotion to empowering diverse actors engaging in community development in Concordia and Montreal operates on the logic that sharing power allows collective expertise and experiences to strengthen the organization uniting them.
"This is a democratic approach that a lot of community organizations long for but are unsure about implementing," Gladu explains. In this way, SHIFT is not only an agent of change in social transformation but also in modelling how organizations can operate and govern inclusively and more effectively.
This logic applies to social impact organizations as well as to the rest of the world. The SHIFT community believes its work to break down hierarchies and distribute power can apply across a spectrum of organizational structures, including schools, businesses and cities.
"We hope to gain important information about whether or not our governance model is meeting our objectives," says SHIFT research assistant Katarina Prystay (BA 22).
"We also want to inspire reflexivity and conversation within the SHIFT community about how power is shared and decisions are made, as well as share what we are learning with others interested in alternative governance structures."
SHIFT is currently recruiting new members to join its governance structures, particularly for the launch of the Space Hub and Ecosystem Activation Hub. The organization encourages anyone interested in getting involved in participatory governance and helping to guide SHIFT to apply.

Find out what it means to be part of the governance for Concordia's SHIFT Centre for Social Transformation.
Learn more about SHIFT's projects.
Explore SHIFT's new collaborative space.
---