Conferences & lectures
Studying Brain Activity Through Multimodal Neuroimaging Techniques
A PERFORM Centre colloquium
---
DATE & TIME
Wednesday, October 19, 2022
2 p.m. – 3 p.m.
Registration is closed
SPEAKER(S)
Christophe Grova, PhD
ORGANIZATION
PERFORM Centre
---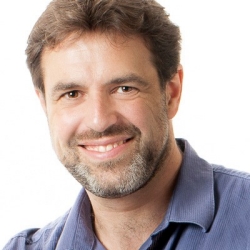 In this talk, I will introduce several neuroimaging techniques now available in the PERFORM Centre's Physiology platform, based on my research activities and collaborations with other PERFORM members.
The first part of the talk will introduce simultaneous High-Density EEG with fMRI recordings. After showing how we de-noise EEG data contaminated by MR artefacts, I will show that accurate EEG source imaging could be obtained even from data acquired in the scanner, before presenting how EEG/fMRI can be considered to study sleep, sleep deprivation and impacts on cognitive performance.
In the second part, I will introduce how personalized fNIRS can be used as a wearable neuroimaging technique to monitor cortical activity in realistic lifestyle conditions and combined with other modalities. Examples of applications involving simultaneous fNIRS with Transcranial Magnetic Stimulation and EEG/fNIRS whole night investigation during sleep will be presented.
---
Speaker Bio:
Christophe Grova is Associate Professor affiliated to the Department of Physics of Concordia University and a research member of PERFORM center since July 2014, while remaining adjunct Professor affiliated to Biomedical Engineering Dpt and Neurology and Neurosurgery Dpt at McGill Faculty of Medicine. He is also affiliated to the epilepsy group of the Montreal Neurological Institute (MNI), the McConnell Brain Imaging Center of the MNI and a member of Physnum team at Centre de Recherches Mathématiques. He received his Engineering and Master degrees in biomedical engineering at the University of Technology of Compiègne (France) in 1998, followed by a Ph.D. in SPECT/MRI registration at University of Rennes (France). From 2003 to 2008, his postdoctoral studies at the MNI were focussed on EEG source imaging of epileptic discharges and the correspondence with EEG/fMRI results, while acting as part time research associate for the set-up of the MEG centre of Université de Montreal (2006-2008).
Dr Grova has been assistant Professor at McGill from July 2008 to July 2014. Since 2008, he is the director of the "Multimodal Functional Imaging Laboratory" (MultiFunkIm) which is now located on both McGill and Concordia campus. His areas of expertise are EEG/MEG source localization, multimodal data fusion involving EEG/MEG, fMRI and fNIRS, for application in epilepsy and sleep research. Dr Grova is the scientific lead of the physiology platform at PERFORM promoting neuroimaging in realistic lifestyle environments using wearable technology (EEG, fNIRS). His team is also handling the development and validation of two software packages: MEM in Brainstorm for EEG/MEG source localization and NIRSTORM for fNIRS data analysis.
---