Meetings, Conferences & lectures
Let's talk together: why is it important to save the world?
University of the Streets Café 20th anniversary season, fall 2023
---
DATE & TIME
Thursday, November 9, 2023
7 p.m. – 9 p.m.
ORGANIZATION
Office of Community Engagement
WHERE
Librairie Racines
6524 Rue St-Hubert
---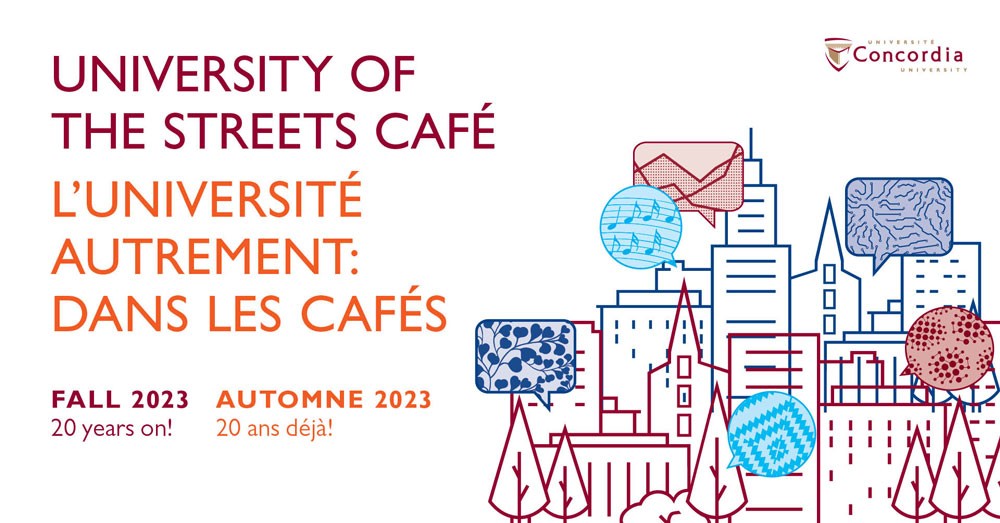 This year, the University of the Streets Café celebrates its 20th anniversary! To celebrate, the fall 2023 season will focus on the importance in our democracies of public dialogue and the spaces that foster them.
Let's talk together: why is it important to save the world?
Librairie Racines, 6524 St-Hubert Street
November 9, 2023, 7 to 9 p.m.
Since its inception in 2003, University of the Streets Café has hosted over 400 bilingual public conversations. We believe that the simple act of talking with one another provides an incredible opportunity for personal growth, for community engagement, for critical thinking and lifelong learning. With this in mind, the programming is about real-time, people-centered, face-to-face public conversations. As a flagship program of Concordia University's Office of Community Engagement, the public bilingual conversations organized by University of the Streets Café are free and open to participants of all ages, backgrounds and levels of education.
Visit us at concordia.ca/univcafe to learn more about our programming and last-minute scheduling updates.
_______________________________________________
Cette année, l'Université dans les cafés célèbre son 20e anniversaire ! Pour souligner l'anniversaire de ce programme original et innovant, l'automne 2023 portera sur l'importance, dans nos démocraties, des discussions publiques et des espaces qui les favorisent.
Parlons les un-e-s avec les autres : pourquoi est-ce important pour sauver le monde ?
Librairie Racines, 6524 Rue St-Hubert
9 novembre 2023, 19h-21h
Depuis ses débuts en 2003, plus de 400 conversations publiques ont été organisées dans des cafés et des espaces communautaires montréalais. Nous croyons que le simple fait de parler les uns avec les autres offre une opportunité incroyable de réalisation personnelle, d'engagement communautaire, de réflexion critique et d'apprentissage tout au long de la vie. En tant que programme phare du Bureau de l'engagement communautaire de l'Université Concordia, l'Université autrement: dans les cafés propose des événements gratuits et ouverts aux participant-e-s de tous âges, de toutes origines et de tous niveaux d'éducation.
Visitez-nous à concordia.ca/univcafe pour connaître notre programmation et les mises à jour de dernière minute.
---