Meetings, Conferences & lectures
Let's talk about access to public dialogue: what does it mean to really be around the table?
University of the Streets Café 20th anniversary season, fall 2023
---
DATE & TIME
Thursday, September 28, 2023
7 p.m. – 9 p.m.
ORGANIZATION
Office of Community Engagement
WHERE
MAI-Montréal, arts interculturels
3680 rue Jeanne Mance
---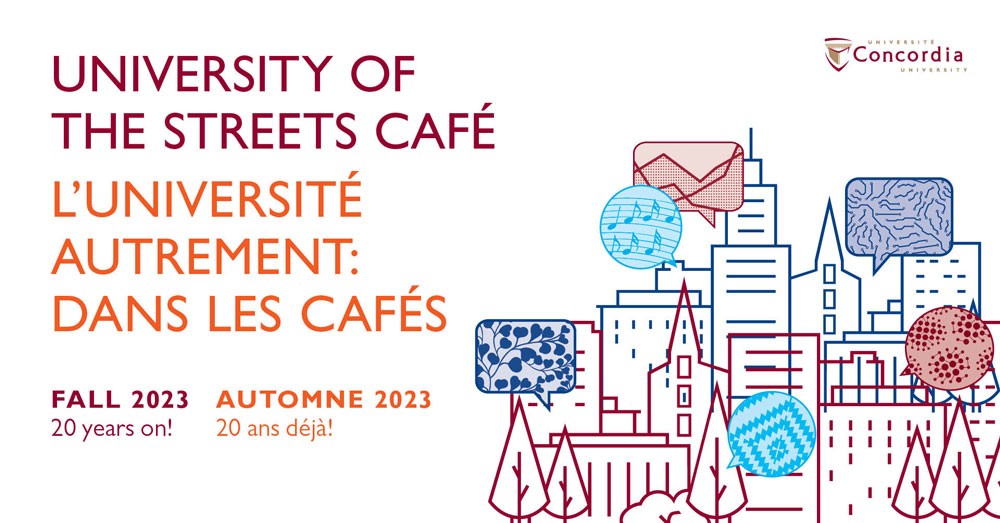 This year, the University of the Streets Café celebrates its 20th anniversary! To celebrate, the fall 2023 season will focus on the importance in our democracies of public dialogue and the spaces that foster them.
Being able to engage in public discussions, debates and public dialogue on common issues and topics of general interest is central to social participation. But who can truly participate? This public conversation explores what it would mean for participation to be truly accessible, that is, with as few obstacles as possible, making those conversations approchable and meaningful for as many people as possible. Together, we will look at the importance of physically, cognitively, economically, and even emotionally accessible conversations and see how these different types of accessibility intersect. What are the concrete challenges of such ambition at different scales? From informal discussions to government-led issues, to community organizing and university spaces, how might our collective experience be transformed through an intentional commitment to access and inclusion.
Featuring: Wassyla Hadjabi, activist for women's accessibility, and Mubeenah Mughal, advocate for accessible schools
Since its inception in 2003, University of the Streets Café has hosted over 400 bilingual public conversations. As a flagship program of Concordia University's Office of Community Engagement, the public bilingual conversations organized by University of the Streets Café are free and open to participants of all ages, backgrounds and levels of education.
Visit us at concordia.ca/univcafe to learn more.
_________________________________________________
Parlons accessibilité des conversations publiques: qu'est-ce que cela signifie d'être réellement autour de la table ?

Contribuer à des discussions publiques, des débats et dialogues sur des questions communes et des sujets d'intérêt général est essentiel à la participation sociale. Mais qui peut vraiment participer ? Cette conversation publique explore ce que signifierait une participation réellement accessible, c'est-à-dire avec le moins d'obstacles possible, rendant ces conversations accessibles et significatives pour le plus grand nombre. Ensemble, nous examinerons l'importance de conversations physiquement, cognitivement, économiquement et même émotionnellement accessibles et nous verrons comment ces différents types d'accessibilité se recoupent. Quels sont les défis concrets d'une telle ambition à différentes échelles ? Qu'il s'agisse de discussions informelles, d'enjeux gouvernementaux, d'organisation communautaire ou d'espaces universitaires, comment notre expérience collective pourrait-elle être transformée par un engagement explicite en faveur de l'accès et de l'inclusion ?
Les personnes conférencières: Wassyla Hadjabi, militante pour les droits des femmes en situation de handicap, et Mubeenah Mughal, qui s'implique pour des écoles différentes et plus largement pour l'accessibilité dans toutes ses formes.
Depuis ses débuts en 2003, plus de 400 conversations publiques ont été organisées dans des cafés et des espaces communautaires montréalais. En tant que programme phare du Bureau de l'engagement communautaire de l'Université Concordia, l'Université autrement: dans les cafés propose des événements gratuits et ouverts aux participant-e-s de tous âges, de toutes origines et de tous niveaux d'éducation.
Visitez-nous à concordia.ca/univcafe.
---