Conferences & lectures
The Two Sides of the Atlantic: What's Driving Digital Entrepreneurship Ecosystems
Hosted by the National Bank Initiative in Entrepreneurship & Family Business
---
DATE & TIME
Tuesday, September 20, 2022
5:30 p.m. – 7 p.m.
WHEEL CHAIR ACCESSIBLE
Yes
---
Tuesday, September 20, 2022
5 p.m. Doors open
5:30 – 6:30 p.m. Panel discussion
6:30 – 7 p.m. Audience Q&A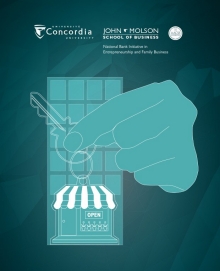 Technological innovation has had a significant impact on entrepreneurship and new venture creation. However, digital entrepreneurship and innovation has been influenced drastically by the ecosystems that they are embedded within. Digital entrepreneurial ecosystems, in different forms and structures around the globe, have been supporting and providing the required resources for entrepreneurs in this field.
In this Researcher-Practitioners Exchange Series hosted by the National Bank Initiative in Entrepreneurship & Family Business, a distinguished group of industry experts and international researchers will discuss different forms, structures, and drivers of digital entrepreneurship ecosystems.
Bringing different views from diverse geographical experiences in addition to the perspectives of other players in the field, this panel will focus on how ecosystems take shape and evolve on both sides of the Atlantic, and explore what challenges and opportunities may be encountered by digital entrepreneurs in the future.
Moderator
Ehsan Derayati, PhD
Director, National Bank Initiative in Entrepreneurship & Family Business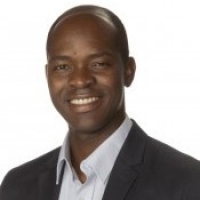 Abayomi Baiyere is an Associate Professor at the Digitalization Department of Copenhagen Business School, a Research Affiliate at MIT Sloan Center for Information Systems Research, and a visiting scholar at the University of Turku.
Before joining academia, he worked for companies such as SAP, ABN AMRO (Dialogues Incubator), and as an entrepreneur. His research interest sits at the intersection of digital transformation, digital disruption, and the societal impact of digitalization. His studies have looked at these issues from an organizational and societal perspective. His research mostly takes a design science, ethnographic, and mixed methods orientation, among other approaches. His primary research areas are Digital Transformation, Digital Disruption, Digital Work and Design Science research.
Arman Sadreddin's research investigates the role of digital technologies in new venture creation processes and in new venture ecosystems (e.g., university entrepreneurial ecosystems).
His research areas include digital entrepreneurship, digital innovation, technology-enabled organizational capabilities, and entrepreneurial ecosystems, and has been published in academic journals and several international conference proceedings. Arman holds a PhD and an MSc in Management Information Systems from Smith School of Business at Queen's University in Canada.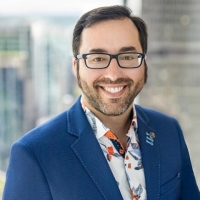 Philippe Daoust is the Managing Director for NAventures, the corporate venture capital arm of the National Bank of Canada. He focuses on sourcing companies that will advance National Bank's transformation. Before joining NAventures, Philippe developed and led the integration and separation advisory practice at a Big 4 firm. He played various roles, from engagement sourcing to due diligence and integration advisory. He worked on large mergers and acquisition projects, including transformative deals for Canadian financial institutions. Philippe also practiced for several years in the United States, France, Latin America and New Zealand. Currently, Philippe sits on the board of various companies.
Philippe earned a Bachelor of Business Administration (BBA) and a graduate degree in public accounting from HEC Montreal. Philippe is a chartered professional accountant (CPA) in Canada and the USA.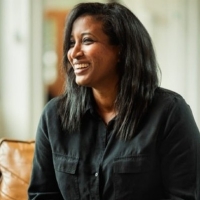 Layial El-Hadi is the executive director of Fintech Cadence, a non-for-profit organization with the mission of supporting start-ups that solve the financial industry's problems through the integration of technology.
Her past experiences have included work in operations management, corporate finance, sustainability consulting, impact investment and non-profit management. She has worked in various emerging and developed markets including Qatar, Jordan, India, Hong Kong and Canada. Layial holds an MBA degree from HEC Montreal.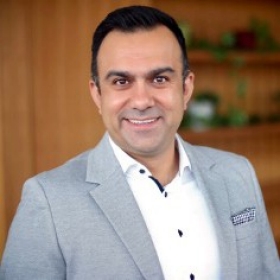 Ehsan Derayati has been teaching strategy and consulting courses at the John Molson School of Business for eight years.
Ehsan is currently Senior Advisor of Innovation and Strategic Research Initiatives and Director of National Bank Initiative in Entrepreneurship & Family Business. Ehsan has been teaching courses in strategy and consulting areas at the John Molson School of Business for the last eight years. He is also active in the consulting and startup scene in Montreal.
Ehsan holds a PhD in Management from John Molson School of Business and an MBA and Bachelor in Science in Mechanical Engineering from the Sharif University of Technology, Tehran, Iran.
---