Workshops & seminars, Conferences & lectures
Science Journalism Workshop Series: EDI (Virtual)
Reporting on Science With Diversity, Equity & Inclusion in Mind
---
DATE & TIME
Wednesday, August 16, 2023
6:30 p.m. – 7:30 p.m.
SPEAKER(S)
Siri Carpenter
---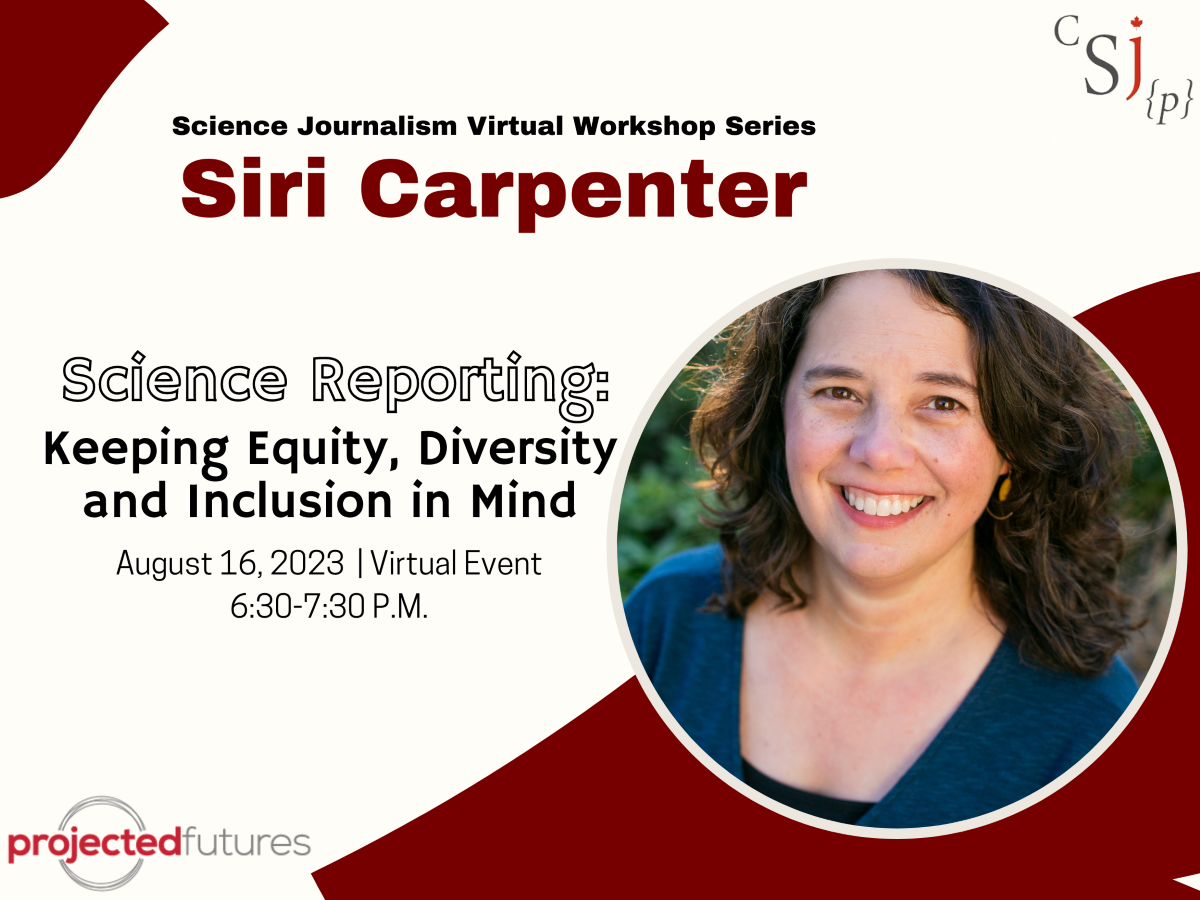 "Whose voices am I including in my story? Who's not being represented? Why is this so important when reporting on science?"
Topics related to diversity and equal opportunity permeate many aspects of society as the public strives for social harmony. These discussions have become especially pressing in the realm of journalism, since objectivity and social justice are often considered foundational to equitable reporting. This seminar will address the fundamental problems with discrimination and bias in relation to science reporting, and give participants an opportunity to implement diverse sourcing into their practices.
Join us as we discuss inclusive language, issues of sensitivity, and editing for equity!
The event is free, but registration is required as spots are limited. A Zoom link will be sent the day before the event.
Reserve by emailing: sjesummit@gmail.com.
This workshop is part of a series organized for Projected Futures, an international graduate science journalism summer school.
About the speaker
Siri Carpenter is an award-winning science journalist and editor whose writing and editorial work has appeared in The New York Times, Science, Discover, Scientific American, Science News, bioGraphic, and other publications. Carpenter is co-founder and editor-in-chief of The Open Notebook, a non-profit organization that is widely regarded as the leading online source of training and educational materials for journalists who cover science. She is also the editor of the book The Craft of Science Writing. She is a past president of the National Association of Science Writers and is a member of the Online News Association, the Society of Professional Journalists, the Society of Environmental Journalists, and the Association of Health Care Journalists. She has a Ph.D. in social psychology from Yale University and lives in Madison, Wisconsin.
---