Conferences & lectures
Craft & Doubt
---
DATE & TIME
Monday, November 27, 2023
5 p.m. – 7 p.m.
ORGANIZATION
History Department
WHEEL CHAIR ACCESSIBLE
Yes
---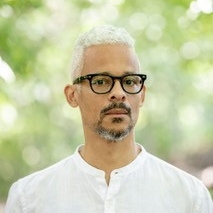 Photo by Kevin Calixte, 2020
History Department Presents: Kaie Kellough
...the writing process – according to most of the writers I speak with – involves a lot more questioning: Is this viable? Is this something I should be spending my time doing? Why am I doing this? Should I drive an Uber instead? These questions don't just circulate in an abstract fashion like they once did, but they become embedded in the process, and as I write, I have an ongoing internal dialogue about the value of writing, whereas many years ago it was much easier to assume that writing had value, that I ought to be doing it, and now, craft and doubt are entwined. Strangely, although that makes the writing process more demanding, more of a struggle, it also enriches the process, because as a person, I emerge from it differently each time, changed somehow on an elemental level, with a different relationship to language, to myself, to the world, and so the process is one of making something outside of myself, something that will exist in the world, but also of becoming.
---