Arts & culture
NEW GRUB STREET: Non-Fiction Panel
---
DATE & TIME
Thursday, October 20, 2022
12 p.m. – 2 p.m.
Registration is closed
SPEAKER(S)
Durga Chew-Bose, Perry King, and Taras Grescoe. Moderator Prof. Haley Mlotek
WHEEL CHAIR ACCESSIBLE
Yes
---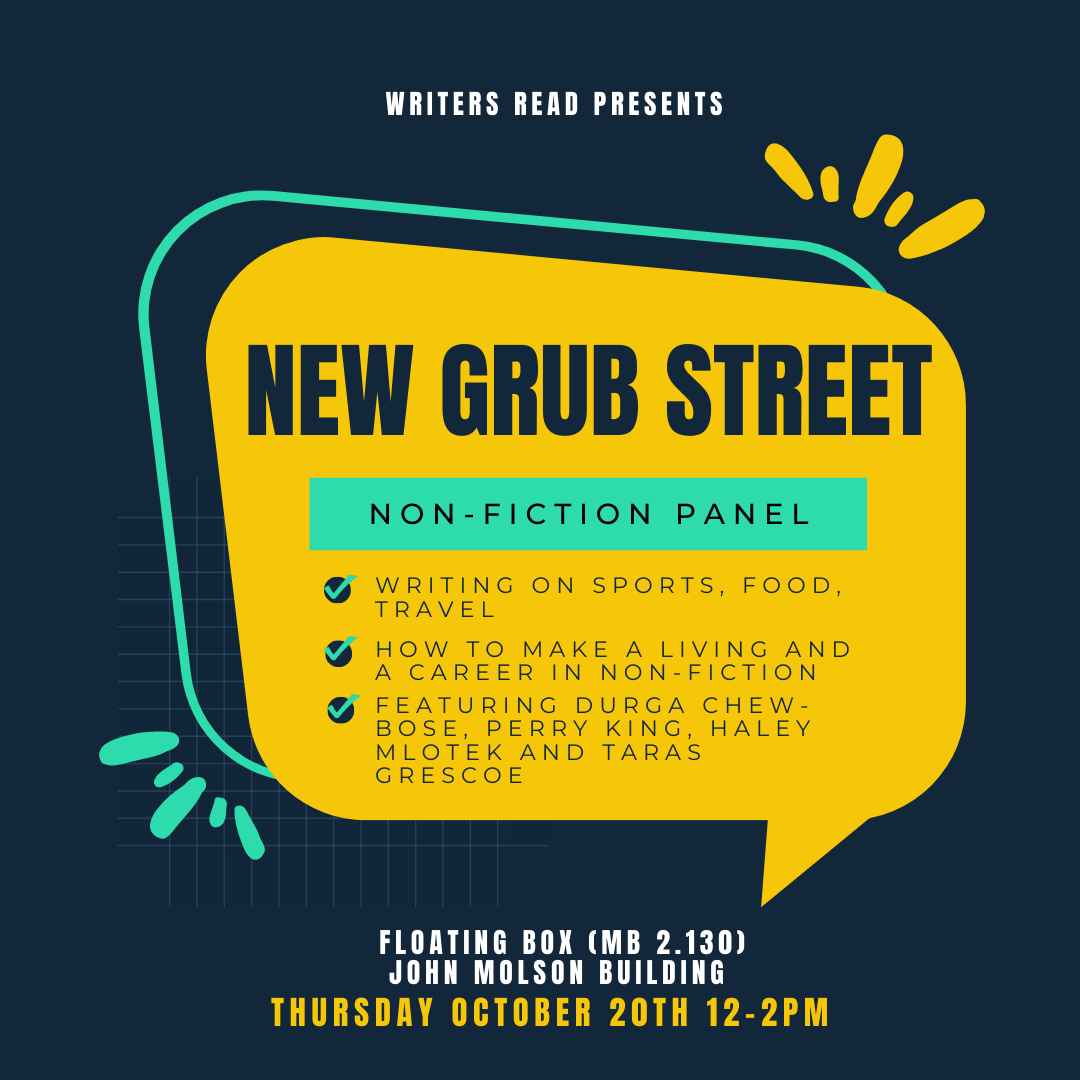 Writers Read is back in person for the Fall Semester! Join us at Concordia for New Grub Street, a Non-Fiction Panel. Panelists Durga Chew-Bose, Perry King, and Taras Grescoe will cover writing on food, sports, and travel, among others, and discuss the intricacies of their careers in non-fiction. There will be a Q&A session moderated by Haley Mlotek.

The panel is in the Floating Box (MB 2.130) in the John Molson Building, 1600 Boul. de Maisonneuve Ouest, Montréal, QC H3H 1J5, on Thursday, October 20 from noon to 2 p.m. This event is free and open to the public. Note that capacity is limited to 50 attendants.
Durga Chew-Bose is a writer and editor living in Montreal. Her work has appeared in the New York Times Magazine, Vanity Fair, Harper's Bazaar, The New York Times Book Review and Art Forum. She is a contributing editor at Dazed. Durga's collection of essays, Too Much and Not The Mood, was published by Farrar, Straus and Giroux in 2017.
Taras Grescoe is the author of seven books, among them: Bottomfeeder, The Devil's Picnic, Straphanger and Shanghai Grand. He is a contributor to the New York Times, the Guardian, National Geographic and the Smithsonian. His next book, The Lost Supper: Why the Future of Food lies in the Past, will be published by Greystone in 2023. He lives in Montreal with his wife Erin and his two sons Desmond and Victor.
Perry King is an author, freelance journalist and communications strategist currently based in Toronto. With a literary focus on sports, education, history and urbanism, Perry has bylines in Sportsnet, the Toronto Star, the Globe and Mail, Spacing Magazine, BBC, and a litany of independent newspapers and magazine. His debut book, Rebound: Sports and the Inclusive City, was published in 2021 by Coach House Press. A proud South Parkdale-raised Torontonian he is currently a communications officer working at the Institute for Studies in Education, a division of the University of Toronto.
Haley Mlotek is a writer, editor and organizer based in Montreal. Her work has appeared in the New York Times Magazine, The New Yorker, The Nation, T Magazine, Elle, Garage, Harper's Bazaar, Hazlitt and N+1, among others. She is a founding member of the Freelance Solidarity Project, a distinct division for digital media workers within the National Writers Union, and teaches in the English and Journalism departments at Concordia. Previously, Haley was the deputy editor of Ssense, the style editor of MTV News, the editor of Hairpin and the publisher of Worn Fashion Journal. Her first book, About Romance and Divorce, will be published by Viking Books and McClelland and Stewart.
---