Community events
Meet our Olympians and Paralympian
---
DATE & TIME
Tuesday, April 26, 2022
1 p.m. – 2 p.m.
Registration is closed
WHEEL CHAIR ACCESSIBLE
Yes
---
Tuesday, April 26, 2022
1 – 2 p.m.
Concordia President Graham Carr invites you to celebrate our medal-winning student Olympians and Paralympian. Meet the athletes and celebrate their medal-winning performances.
Campus COVID-19 measures require all participants to register in advance and wear a mask on-site.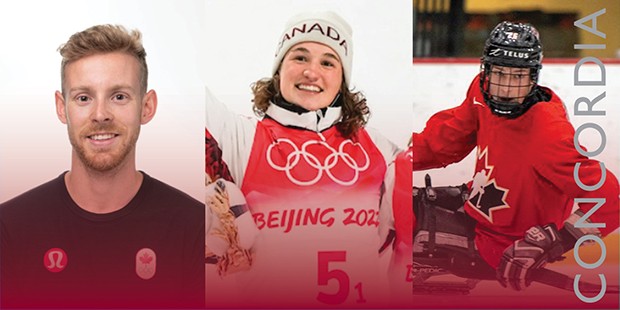 Pascal Dion, Anton Jacobs-Webb, Marion Thénault
Pascal Dion
John Molson School, Finance
Gold – Men's Short-track speed skating / 5000m relay

Anton Jacobs-Webb
Gina Cody School, Mechanical Engineering
Silver – Men's Para Ice Hockey

Marion Thénault
Gina Cody School, Aerospace
Bronze – Freestyle Skiing / Mixed Team Aerials
Moderators
Anne-Marie Croteau, Dean, John Molson School of Business
Mourad Debbabi, Dean, Gina Cody School of Engineering and Computer Science
Can't make it to campus? Register to watch the livestream.
---