Qualtrics - Institutional
Qualtrics is a cloud-based application that allows users to create surveys and generate powerful reports. This software enables users to perform many kinds of online data collection and analysis including market research, customer satisfaction and loyalty, product and concept testing, employee evaluations, and website feedback.
Who can use it?
Faculty, staff and students
How much does it cost?
There is no cost associated with this service.
How to get it?
1. Browse to the Qualtrics page
2. You will be presented with Concordia's Single Sign-On login screen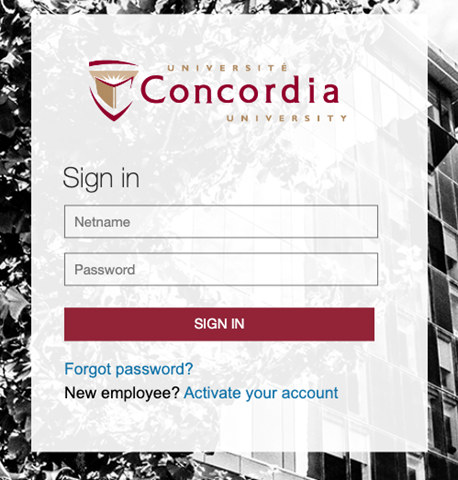 3. Sign in with your netname and password.
Service availability
24/7
Documentation
Visit the Qualtrics support page and Learning Hub
As part of our institutional license, Qualtrics offers a comprehensive list of free courses and live webinars through their XM Basecamp site. This site allows new users to learn the basics and advanced users to deepen their knowledge. Use their course recommender to get a personalized experience.
1. Go to the XM Basecamp page
2. Click on LOG IN on the top right corner
3. Select Qualtrics Credentials as your sign in method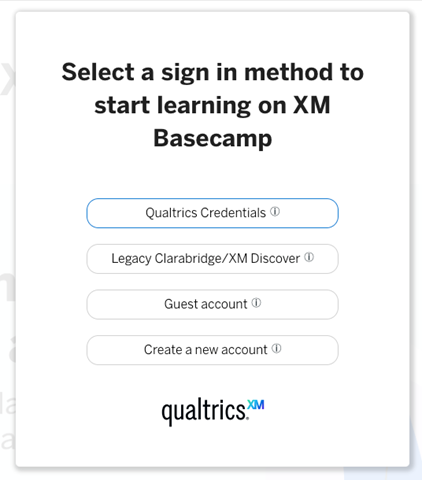 4. You will presented with a Qualtrics sign in screen, at the bottom, select Sign in with SSO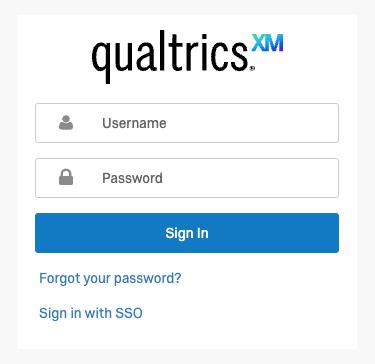 5. It will ask you to enter your company's Organization ID, type concordia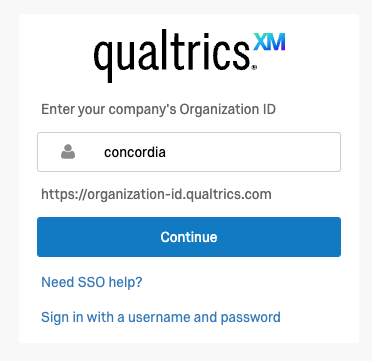 6. Click continue, and you will then login with Concordia's SSO page
7. Due to an issue on Qualtric's side, you will first be presented with an error
8. Click Log In on the top right
9. You will now be presented with a page that shows your netname#concordia. Click on the white background that says Universite Concordia | University Wide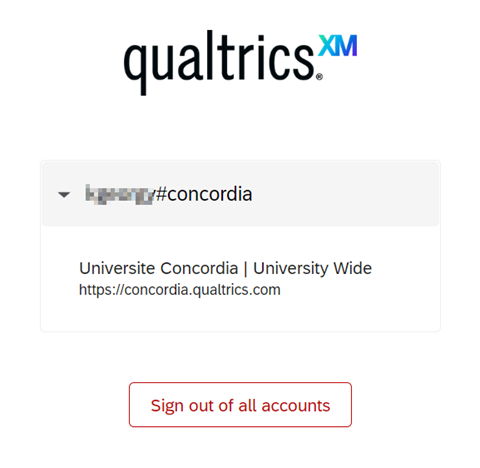 As part of our institutional license Qualtrics offers access to their XM Community support service where you can connect and collaborate with other users as well as request official support from Qualtrics directly.
1. After creating your Qualtrics account, go to the XM Community support page
2. Click on Sign In on the top right
3. You will be presented with a Qualtrics sign in screen, click on Sign in with SSO at the bottom.
4. Enter concordia as the Organization ID
5. Click Continue, you will then login with Concordia's SSO page
6. Due to an issue on Qualtrics side, you will be presented with the following error
7. Click Sign In on the top right
8. You will now be presented with a page that shows your netname#concordia. Click on the white background that says Universite Concordia | University Wide