Solar Energy / Lighting Lab & Solar House
Our main research focus is the integration of solar energy systems into buildings to generate electricity, useful heat and for daylighting.
A key element of our approach is that solar technologies are integrated in an optimal manner with energy efficiency measures, with the building envelope and with HVAC systems, so the potential energy savings are even higher than separately applying the two approaches and reductions in total cost may be realized.
Solar Simulator
The Solar Simulator - Environmental Chamber laboratory is an internationally unique facility developed with a $4.6 M grant from the Knowledge and Infrastructure Program (KIP). It enables accurate and repeatable testing of solar systems and advanced building envelopes under standard test conditions with full simulated sun and indoor plus outdoor conditions.
Learn more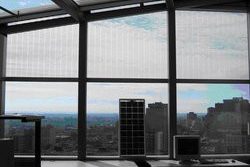 Solar-Daylighting lab
The Solar-Daylighting lab and its adjacent atrium as well as the roof of EV and BE will be used for many unique projects of the Network. A variety of equipment has been acquired, including solar instruments, particle image velocimetry system, heat flow meters. Our lab also includes an artificial sky (3 x 3 x 3 m) facility.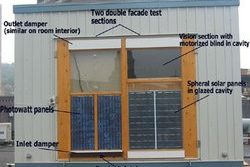 Outdoor test facility
A unique outdoor test facility is currently being used to investigate innovative solar façade and roof systems funded by NSERC strategic grant and industrial/NRCan support.
Laboratory courses
Bldg 365: Building Science

Bldg 366: Acoustics and Lighting