Conferences & lectures
Centuries of Contributors: On the collective parentage and ownership of stories with staying power
Part of the 2021 International Society for the Study of Early Medieval England conference
---
DATE & TIME
Friday, June 18, 2021
5:15 p.m. – 6:15 p.m.
Registration is closed
SPEAKER(S)
Maria Dahvana Headley
---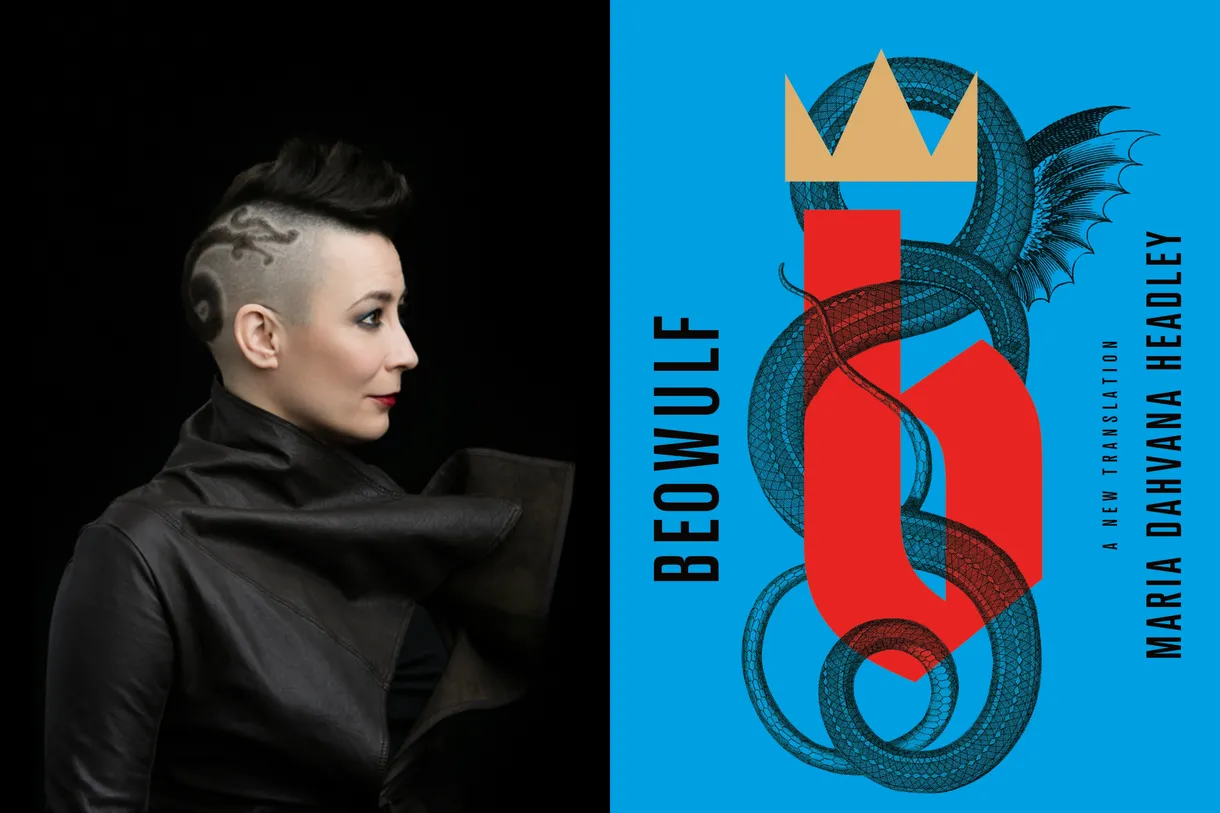 Maria Dahvana Headley (left). Photo by Beowulf Sheehan, 2018. Cover art for Beowulf: A New Translation (right).
In this keynote lecture, New York Times bestselling author Maria Dahvana Headley examines the barriers to access that exist for many canonical stories due to an instinct to 'keep them safe' through gatekeeping.
Historically, these stories have been translated, interpreted and studied through a narrow lens. Headley asks how we might revisit these classic stories, scratch beneath the surface of the male hero's journey and explore the supporting or uncredited characters in order to widen our perspective on the tales that continue to shape our lives today.
Presented as part of the 2021 International Society for the Study of Early Medieval England conference co-hosted by Concordia's Department of English and sponsored by the Faculty of Arts and Science. Open to Concordia students, faculty and staff.

About Maria Dahvana Headley
Maria Dahvana Headley is the New York Times-bestselling, World Fantasy Award-winning author of eight books, most recently Beowulf: A New Translation (MCD x FSG), which was named as a book of the year by The Atlantic Monthly, NPR, Vox, The Irish Times, and the New Statesman. The Mere Wife (MCD x FSG), a contemporary adaptation of Beowulf, was named by the Washington Post as one of its Notable Works of Fiction in 2018. Headley's short fiction has been shortlisted for the Nebula, and Shirley Jackson Awards and for the 2020 Joyce Carol Oates Prize, and has been anthologized in many year's bests. Her essays on gender, chronic illness, politics, propaganda, and mythology have been published and covered in The New York Times, The Daily Beast, Harvard's Nieman Storyboard, and elsewhere.
---
---