Notable Concordian
Lynn Hughes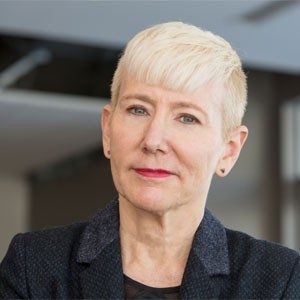 Awards & Distinctions
Great Concordian
The art of enabling research-creation
Digital games constitute an exciting, emerging form of cultural production, according to Lynn Hughes in an interview published in Digitalarti Mag. She believes that, for example, they are relevant in an increasingly systematized world and alert us to the constructed, systemic nature of our realities, allowing us to be more critical.
Hughes is Concordia University Research Chair in Interaction Design and Games Innovation. Her interest in the digital medium derives from her work as an artist, researcher and teacher.
With an educational background in art, literature and the history and philosophy of mathematics, Hughes does not hesitate to colour outside the lines.
She joined Concordia's Department of Studio Arts in 1989 as assistant professor of painting and drawing. She subsequently held a number of positions at the Faculty of Fine Arts, including that of Associate Dean, Research and International Relations.
She distinguished herself in that role, earning a 2012 Concordia University Academic Leadership Award. Dominic Peltier-Rivest, director of the Centre for Academic Leadership praised her for "guiding the faculty toward increased research capacity and a fuller articulation of fine arts to the research mission of Concordia."
Hughes has been an energetic advocate of research-creation through her own interactive digital works as well as through the groups and centers she helped establish.
She was co-founder and co-director of Interstices, an inter-university research-creation group, which between 2000 and 2010, was one of the first research groups funded to promote research-creation. Interstices brought together graduate students from Concordia and UQAM to collaborate on interactive art productions.
She played an instrumental role in the funding and structuring of the Hexagram Institute for Research-Creation in Media Arts and Technologies. With about 100 researchers, Hexagram remains the largest and most productive hub in Canada for research-creation in emerging models of interdisciplinary art and performance.
More recently, Hughes co-founded Concordia's Technoculture, Art and Games (TAG) Research Centre a cross-disciplinary, interfaculty group of researchers and artists, which embodies her vision of uniting individuals and groups from Concordia and beyond.
Hughes's own works have been exhibited across Canada and internationally, including in the US, Europe Asia and South America. She recently co-curated a major exhibition of contemporary games as culture at La Gaîté lyrique in Paris and is currently organizing exhibitions about ludic culture in Mexico City and Spain.
Lynn Hughes discussing her work at Concordia in an interview for Le Devoir. Photo: Annik MH De Carufel, courtesy of Le Devoir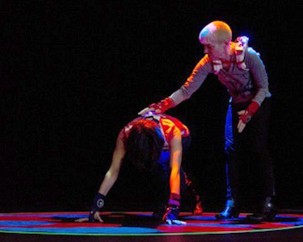 Lynn Hughes takes part in Propinquity, a full body game for two players wearing sensors. | Photo: Brian Li, courtesy of Wyld Collective.
More Great Concordians