Notable Concordian
Gabriel Bran Lopez
BA 08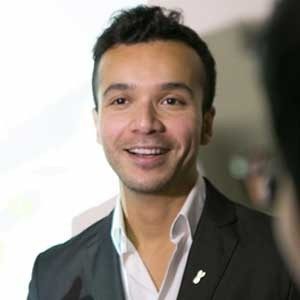 Awards & Distinctions
Great Concordian Outstanding Student Leader Award
Youth Fusion founder keeps students in school
Gabriel Bran Lopez, BA 08, has travelled quite a distance since leaving civil war-torn Guatemala with his family in the early 1980s. As an immigrant child living in an impoverished neighborhood, he faced innumerable challenges as he sought to find his voice and his place in a new environment.
A supportive teacher led him to accept the leading role in a student play about a boy who suffers from leukemia. The experience proved life-changing and propelled Lopez to take an active role in student life at his school. He launched leadership programs, organized sporting events and helped create the first student council. He had found his calling.
While a student in Concordia's Department of Communication Studies, he served as treasurer of the Communications Studies Student Association and as president of the Garnet Key Society. He travelled to Uganda with the Concordia Volunteer Abroad Program (now CEED).
Lopez is now president of Youth Fusion, a charity he established in 2008 to reverse dropout rates across Quebec. The organization began as a pilot project at Concordia.
"The idea was simple yet had never been implemented in Canada: hire university students and recent graduates and send them into poorly performing schools to implement projects that motivate teenagers to stay in school, strengthen their school spirit and give them a sense of belonging," Lopez explained to The Philanthropist.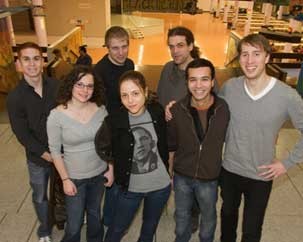 Gabriel Bran Lopez's Youth Fusion team in 2009. Left to right: (back row) Evan Sheres, Jonathan Berke and Adam O'Callaghan; (front row) Andrea LeRoyer, Bonnie Zehavi, Lopez and Kyle Verboomen. (Photo courtesy of Tristan Brand.)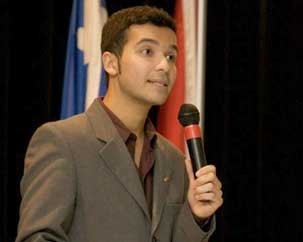 Gabriel Bran Lopez keeping students interested in school at one of his speaking engagements. (Photo courtesy of Gabriel Bran Lopez.)
From seven Concordia-based project coordinators working in two Montreal schools, Youth Fusion has grown to employ dozens of coordinators from several universities to help students as far north as Nunavik stay in school.
Lopez is the recipient of numerous awards, including the Michel-Perron Award (2013), Ernst & Young's Social Entrepreneur of the Year Award (2011), Public Policy Forum Emerging Leader Award (2010), Sauvé Scholarship (2009-2010), Forces Avenir Personality Award (2007), Concordia's John E. O'Brien Medal (2007) and the Concordia University Alumni Association's Outstanding Student Award (2007).
Read more about Gabriel Bran Lopez
More Great Concordians