Conferences & lectures
Lunch & Learn: Covid-19 and the Black Lives Matter Protests in Montreal
---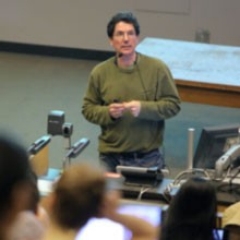 Title: QUESCREN Lunch & Learn: Covid-19 and the Black Lives Matter Protests in Montreal
Presenters: Richard Koestner, Ph.D., with Anne Holding, Ph.D.
Language of event: English presentation and bilingual Q+A session
When: Thursday, February 4, 2021, noon to 1pm
Where: online via Zoom (Note: the Zoom link will be mailed to people who register)
The historic events of the spring of 2020—the collision of the worst public health crisis in a century and the largest black civil rights movement in half a century—offer a unique opportunity to examine how the hopes and dreams of Black communities can be transformed. QUESCREN researcher-member Dr. Richard Koestner will present research on the impact of these events on the motivation and well-being of English-speaking Black young adults with Dr. Anne Holding. Results are based on a 3-wave survey study conducted in collaboration with the Black Community Resource Centre between July and November 2020.
This event is based on an upcoming QUESCREN Working Paper.
This Lunch & Learn was made possible through the financial support of the Secretariat aux relations avec les Québécois d'expression anglaise and the Department of Canadian Heritage.
About the speakers
Richard Koestner is a professor of Psychology at McGill University who is dedicated to studying human motivation. He is the Founder and Director of the McGill Human Motivation Lab, and he has published over 200 scientific articles. He received the 2007 Canadian Psychological Association award for excellence in training, and in 2008, he won the Principal's Prize for excellence in teaching at McGill. Dr. Koestner is also a QUESCREN researcher-member​.
Anne Holding recently completed a Ph.D. in McGill's Clinical Psychology program under the supervision of Dr. Koestner. She received her B.A. in Psychology (Honours) from McGill University in 2013. Her research focuses on how we successfully disengage from unfruitful or unattainable goals, and on the motivational antecedents to experiencing an action crisis in personal goal pursuit.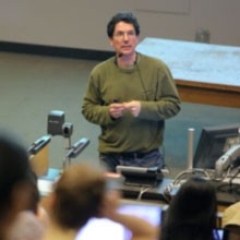 Titre : Dîner-causerie de QUESCREN: Covid-19 et les manifestations de Black Lives Matter à Montréal
Conférenciers : Richard Koestner, Ph.D., avec Anne Holding, Ph.D.
Langue de l'événement : Présentation en anglais, période de question bilingue
Quand : Jeudi 4 février 2021, de midi à 13h
Où : en ligne via Zoom (Note : le lien sera envoyé à ceux et celles qui se seront inscrits)
Les événements historiques du printemps 2020, soit la collision entre la pire crise de santé publique du siècle et le plus grand mouvement noir de défense des droits civiques en un demi-siècle, offrent une occasion unique d'examiner comment les espoirs et les rêves des communautés noires peuvent être transformés. Chercheur-membre de QUESCREN, Richard Koestner, Ph.D. et Anne Holding, Ph.D. présenteront des recherches sur l'impact de ces événements sur la motivation et le bien-être des jeunes adultes noirs anglophones. Les résultats sont basés sur une étude en trois vagues menée en collaboration avec le Black Community Resource Centre entre juillet et novembre 2020.
Cet événement est basé sur un document de travail de QUESCREN à venir en 2021.
Ce dîner-causerie a été rendu possible grâce à l'appui financier du Secrétariat aux relations avec les Québécois d'expression anglaise et du ministère du Patrimoine canadien.
À propos des conférenciers
Richard Koestner est professeur de psychologie à l'université McGill et se consacre à l'étude des motivations humaines. Il est le fondateur et le directeur du McGill Human Motivation Lab et il a publié plus de 200 articles scientifiques. Il a reçu le prix d'excellence en formation de la Société canadienne de psychologie en 2007. En 2008, il a remporté le Principal's Prize pour l'excellence en l'enseignement à l'université McGill. Il est également un chercheur-membre de QUESCREN.
Anne Holding a récemment terminé un doctorat dans le programme de psychologie clinique de l'Université McGill sous la supervision du Dr. Koestner. Elle a obtenu son B.A. en psychologie (avec mention) de l'Université McGill en 2013. Ses recherches portent sur la façon dont les gens se désengagent d'objectifs infructueux ou irréalisables avec succès, ainsi que sur les antécédents motivationnels de l'expérience d'une crise d'action dans la poursuite d'un objectif personnel.
---