Concordia Public Scholar Hone Mandefro Belaye uncovers how a city's social fabric changes during rapid urban growth
'The way we envision housing tells us a lot about what we think of the relationships between people'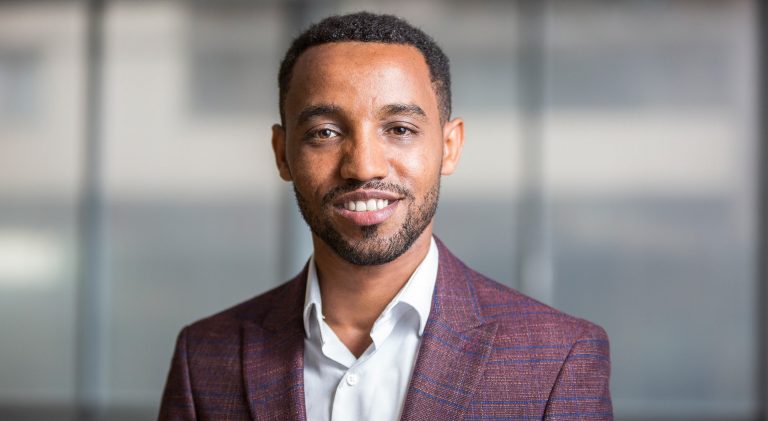 Urban development projects are rapidly transforming the physical landscape of Addis Ababa, Ethiopia. They're also impacting the social lives of the people who live there. That's the topic of Concordia Public Scholar Hone Mandefro Belaye's doctoral research.
The PhD candidate in social and cultural analysis is examining the change and continuity in relationships among neighbours as their living space in Addis Ababa changes from single-story houses to high-rise condominiums.
These urban changes stem from the Ethiopian government's Integrated Housing and Development Program, which has been clearing slums and putting up high-rise buildings in their place. The program, which was designed to provide affordable housing to middle- and low-income groups, offers subsidized units to people through a lottery system. Belaye estimates that the government's Integrated Housing and Development Program is responsible for more than 50 per cent of the city's new housing supply in the last decade.
The Global South is undergoing rapid urban change, Belaye adds. He will be discussing these issues as part of a roundtable panel discussion on February 2. The public is welcome to attend the event in person at 4TH SPACE or online.
Belaye's research is supported by a Vanier Scholarship from the Social Sciences and Humanities Research Council (SSHRC), a Wadsworth International Fellowship from the Wenner-Gren Foundation and Concordia.
'It's not just about building houses — we need to build communities'
How did you go about your research?
Hone Mandefro Belaye: I investigated a particular neighbourhood in Addis Ababa that was established a decade ago. Ten years later, how do people describe their experience of living in this emerging settlement? As part of my research, I looked at neighbour-to-neighbour relationships, people's relationship with the local state and people's relationship to their new living space. I lived in the neighbourhood for six months. I collected qualitative data on-site through interviews, participant observation and focus groups.
What have you found so far?
HMB: I've made a number of initial observations. First, a lot of people appreciate the quality of the new houses. Many of the condo inhabitants used to live in what you call slums, which are very dense. They didn't have private facilities. Now, they have a bathroom, kitchen and tap water all within their own space. They have more privacy.
There are still issues in terms of what is promised and what's delivered. For instance, even though they have tap water inside, there are often service disruptions that last weeks. So, water is not always accessible, but at least they don't have to walk far to fetch it.
Second, there is a feeling of loss of community compared to where many inhabitants previously lived. In the previous neighbourhoods, many facilities were shared, including their own spaces. That meant a lot of interaction. People knew who their neighbours were, and there was a very tight community. Now, people must be intentional to get to know their neighbours.
Third, there is a split of community. Although people live together, their experience varies on a number of factors, one of them being whether they are an owner or tenant. Owners are often part of neighbourhood committees and can make important decisions about neighbourhood affairs, but tenants are left out of these discussions. Tenants don't have as much power in the neighbourhood and tend to be less invested.
However, I also found that women tend to do most of the neighbouring practices and are more active in these new communities. Patriarchy is still intact, but women also have gained more power in neighbourhood affairs than they did in the past, especially those who are owners. They participate in community meetings more frequently and in some cases do a lot of the strategizing.
What do you hope to accomplish through your research?
HMB: I hope that the affordability discussions around housing also begin to be anchored by how we build communities. Housing is not just about a dwelling. It's not just about where people live. The way we envision housing tells us a lot about what we think of the relationships between people, whether that be the relationships within a house or our relationship with the people that live next door.
It's not just about building houses — we need to build communities. Ultimately, that's what makes society better. And community will only come if we pay attention to building it.

Learn more about Concordia's Public Scholar Program.
Join the roundtable event, Housing in the Global South: Trends and Global Implications, at 4TH SPACE (1400 De Maisonneuve Blvd. W.) or watch online on February 2, 10 a.m. to 12 p.m.
---