A Public Conversation on Healing, Well-Being, and the Visual Arts
Zoom conversation - 6 April, 4:00 – 5:30pm
Co-hosted by the Gail and Stephen A. Jarislowsky Institute for Studies in Canadian Art and the Centre for Interdisciplinary Studies in Society and Culture (CISSC)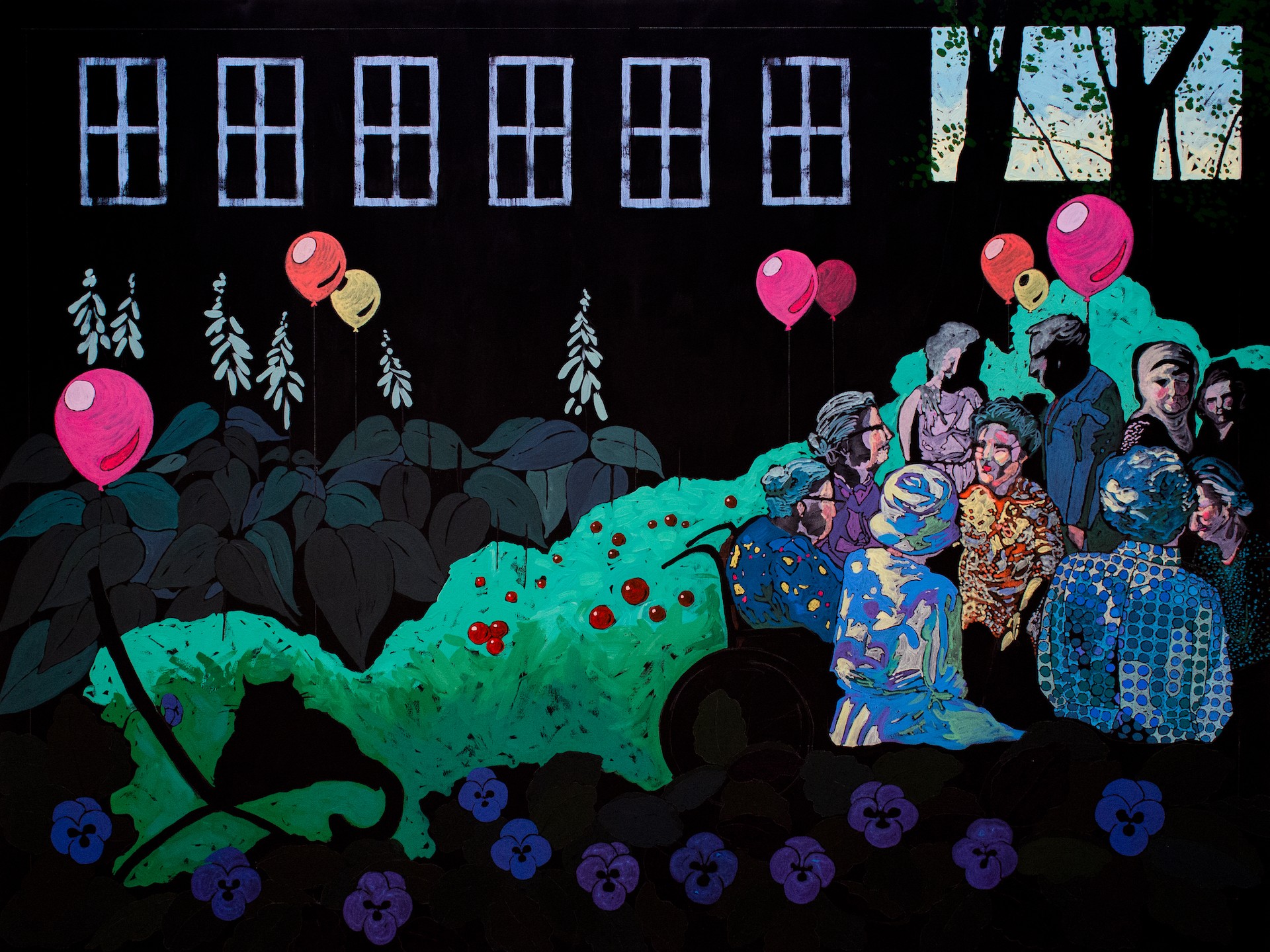 Cynthia Hammond, "Shade and Solace (Garden Party)," 2019. Acrylic gouache and pencil on canvas, 91.4 x 121.9 cm. A depiction of the final garden party held in the former healing garden of St Margaret's Home, a palliative care centre in Montreal, active 1894-1991.
The distinguished panel includes:
Cynthia Hammond, Professor of Art History, Concordia University: "Restorative Landscapes in an Anthropocentric World."
David Hornstein, MDCM, FRCP, McGill University Health Centre and McGill University, Internal Medicine and Critical Care: "The Healing Power of Images from a Timeline Lost – Intensive Care Journals During Critical Illness."
Tamar Tembeck, Artistic Director, Oboro: "Public Art in Healthcare Spaces."
Janis Timm-Bottos, PhD, ATR-BC, Associate Professor, Creative Arts Therapies, Faculty of Fine Arts; Director, Art Hives Initiative, PI, engAGE Living Lab créatif (FRQS); Co-director, Design, Art, Culture, Community (DACC) Next-Generation Cities Institute: "Art Hives and Creative Living Labs: social infrastructure for wellness."
Martha Langford, Research Chair and Director of the Gail and Stephen A. Jarislowsky Institute for Studies in Canadian Art will moderate, and Judy Weiser, Founder and Director of the PhotoTherapy Centre, will join the discussion.
The conversation will be preceded by an online lecture, Healing, Well-Being and Photographs: PhotoTherapy, Therapeutic Photography, and other photo-based helping techniques for improving well-being
2:30 – 3:30pm EST:
Judy Weiser, Psychologist, Art Therapist, Photographer, Founder & Director of the PhotoTherapy Centre in Vancouver, and author of PhotoTherapy Techniques: Exploring the Secrets of Personal Snapshots and Family Albums.
These online events are open to the public and free-to-attend. A single registration covers both events.