Arts & culture
Journey Through the Stacks: Illustrated Travelogues and the Orientalist Imagination
---
DATE & TIME
Tuesday, January 31, 2023 –
Wednesday, March 22, 2023 (all day)
WHEEL CHAIR ACCESSIBLE
Yes
---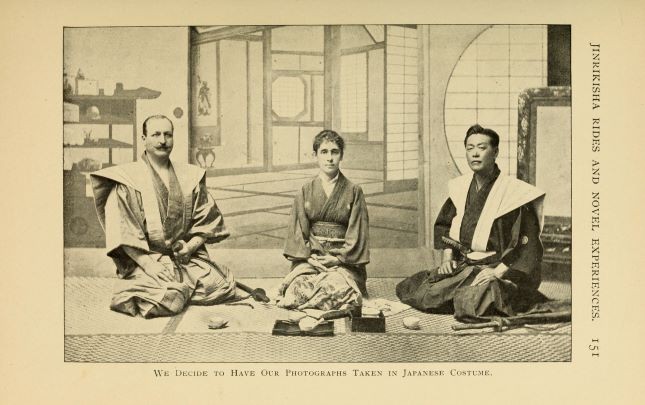 Kusakabe Kimbei, "We Decide to Have Our Photographs Taken in Japanese Costume," in Charles M. Taylor's Vacation Days in Hawaii and Japan (Philadelphia: George W. Jacobs & Co., 1898), 151. Halftone reproduction.
Since the inception of photography in the 1830s, the medium has been entwined with histories of writing and travel. It was not until the 1880s, however, that photographs could be viably reproduced in books thanks to the implementation of the halftone printing process.
Featuring historic material from Concordia, McGill, and the Université de Montréal's library collections, this exhibition explores the impact of this printing technology on travelogues that describe the so-called Orient.
What the books gathered here show is how photography was employed to illustrate and confirm a Western view of Asia and the Middle East as exotic destinations. A common feature of middle-class bookshelves, these mass-produced objects were hugely influential in shaping modern perceptions of actual places. Their compelling combination of romantic rhetoric and photographic realism would also prove to be a particularly enduring aspect of popular culture, paving the way for today's highly mediated tourist industry.
This exhibition is curated by Stéphanie Hornstein, Concordia Library's researcher-in-residence. It will be on display in the Webster Library vitrines on LB-2 from January 31 to March 22.
---