Conferences & lectures
PPP/RRR – Pier Paolo Pasolini: Riprese, Reprises, Retakes
---
DATE & TIME
Wednesday, September 28, 2022 –
Saturday, October 1, 2022 (all day)
WHERE
Concordia University, UQAM, Saint Paul University, and Cinémathèque Québécoise
---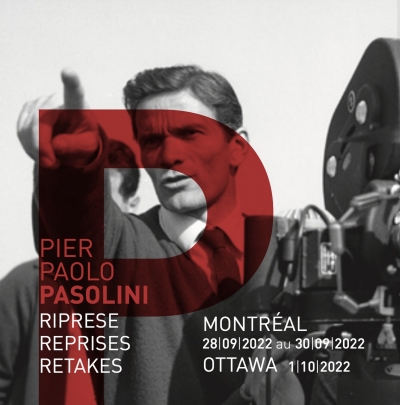 PPP/RRR – Pier Paolo Pasolini: Riprese, Reprises, Retakes is a project that celebrates the hundred-year anniversary of Pasolini's birth through a series of artist talks, academic presentations, and in-person and online screenings. The aim is to reflect on Pasolini's legacy and afterlife.
The event will take place in September and October 2022 in different locations across Montreal and in Ottawa.
Confirmed participants include filmmakers Yuri Ancarani, Rodrigue Jean, Frédéric Moffet, and scholars Marco Bertozzi, Roberto Chiesi, Gaia Giuliani, Hervé Joubert-Laurencin, Anne-Violaine Houcke, Peter Limbrick, and Ara Merjian, among others.
Please find more information on our website: labdoc.uqam.ca/ppp-rrr-montreal-2022
Join us on Facebook: facebook.com/events/1125873941688637
---