Exhibitions
Exhibition: COVID in the House of Old
---
DATE & TIME
Wednesday, November 15, 2023 –
Thursday, November 23, 2023 (all day)
WHEEL CHAIR ACCESSIBLE
Yes
---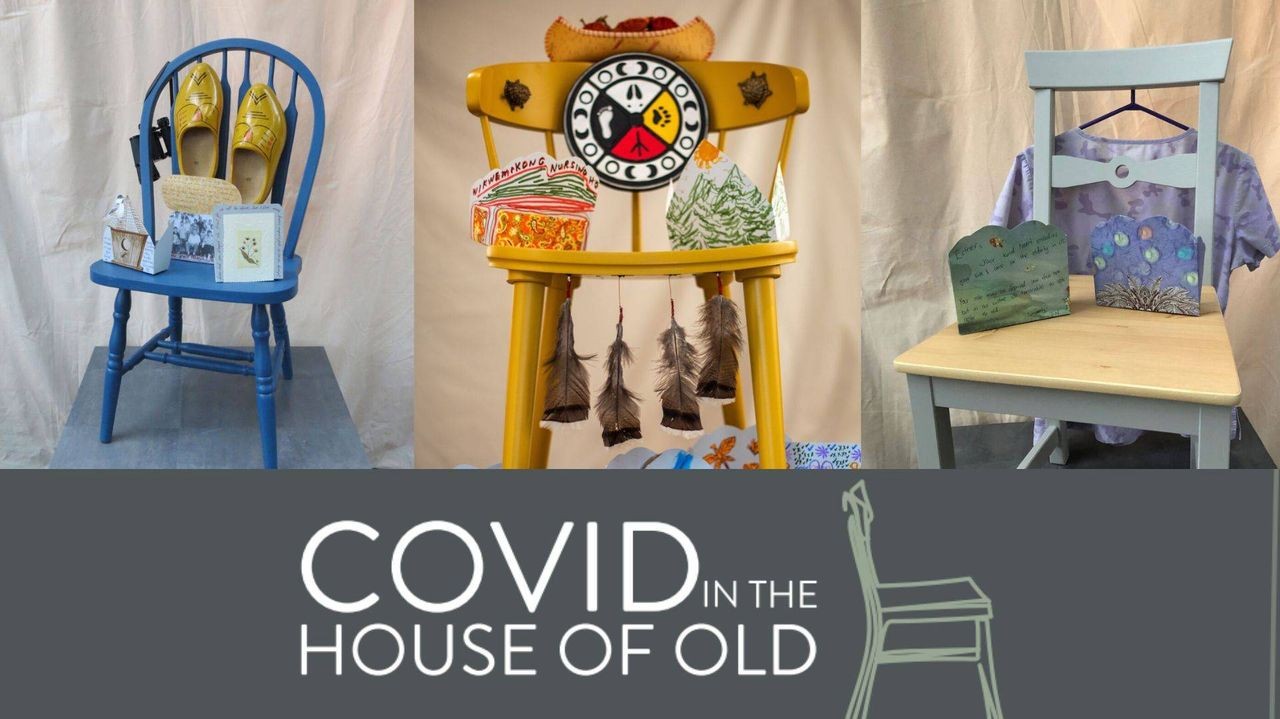 In January 2022, historian and COHDS-affiliate Megan Davies launched a travelling and online exhibition "COVID in the House of Old." At the heart of the exhibition sit eight storytelling chairs. As Megan Davies notes, "three of the seven chairs represent residents who died in care homes, one is held by a support worker who was a nurse in Uganda; another by a resident who left the institution; and the sixth belongs to a woman from the Squamish First Nation in BC who endured a long isolation." The seventh chair represents an entire facility – the Wikwemikong Nursing Home on Manitoulin Island in Northern Ontario – capturing the voices of both staff and residents.
An activist historian interested in issues of social justice, Dr. Davies wanted to collect stories "because I knew they would be an engine for social change." Objects of memory are mounted to the back of each chair, while paper "Valentines," lovingly created by family and friends, rest on each seat.The website also features a moving podcast and a petition to transform long-term residential careinCanada to prioritize quality of life.
Centred around 7 "chairs" each representing an individual or community's story, the exhibition includes rich interviews and a "Story Space" that invites visitors to share their stories about COVID-19 in personal care homes as well as their thoughts about the future of long-term care.
COHDS will be hosting the last leg of the exhibition, which has been touring the country since April 30, with bookings in Winnipeg (Manitoba), Saskatoon (Saskatchewan), and Nanaimo (British Columbia) and upcoming stops in Manitoulin Island and Toronto (Ontario).
Schedule
November 15: 2-5 p.m.
November 16: 2-5 p.m.
November 17: 2-5 p.m.
November 18: 11-5 p.m.
November 19: 11- 5 p.m.
November 20: Closed
November 21: 2-5 p.m.
November 22: 2-5 p.m.
November 23: 2-5 p.m.
November 24: 2-5 p.m
For more information on the project, visit https://covidinthehouseofold.ca
---