Concordia professor Bonnie Harnden's short film You Arrive wins multiple international awards
The educational piece on intergenerational trauma combines research, theory and real-life experiences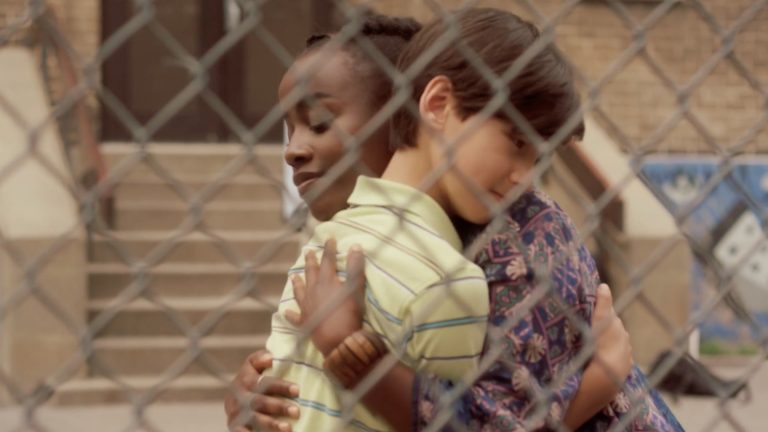 After 10 years of clinical and research work at the Montreal Children's Hospital, psychoanalyst and art/drama therapist Bonnie Harnden had a novel idea. She would write a play about her time working with children and teenagers who had experienced family trauma and use it as a therapeutic learning tool.
"My play You Arrive came about as I was looking for a way to share my findings and clinical experience of working with these children and families, beyond the traditional forms of research dissemination," she says. "Many of the families, students and front-line mental-health clinicians that I worked with had little time to read journal articles, so I wrote a play instead."
Encouraged by the positive response, Harnden decided to go a step further. She teamed up with award-winning filmmaker and fellow Concordia drama therapy graduate Mark Krupa, BA 92 (psychology), MA 12 (creative arts therapy), to make a film version.
The film has since gone on to win awards at four different international festivals: best educational film at the Cannes World Film Festival for shorts and documentaries, best educational film at the Berlin Shorts awards, best documentary film at the Reale Film Festival and best portrayal of a therapist at the Believe Psychology Film Festival.
A new method of arts-based research and teaching
Harnden calls the film an edu-drama: a new form of teaching that combines storytelling, quantitative and qualitative data and performance to share complex research and theory.
"I'm really interested in how trauma lives in the spaces between us," she says. "It lives in our relationships, and it lives in the way that we love and relate. And I noticed that with a lot of parents who had grown up with violence, their trauma would often be transmitted down to the next generation."
As much of the latest research on intergenerational trauma can be quite technical, she hopes the performance aspect of the play and film will facilitate the sharing of this data.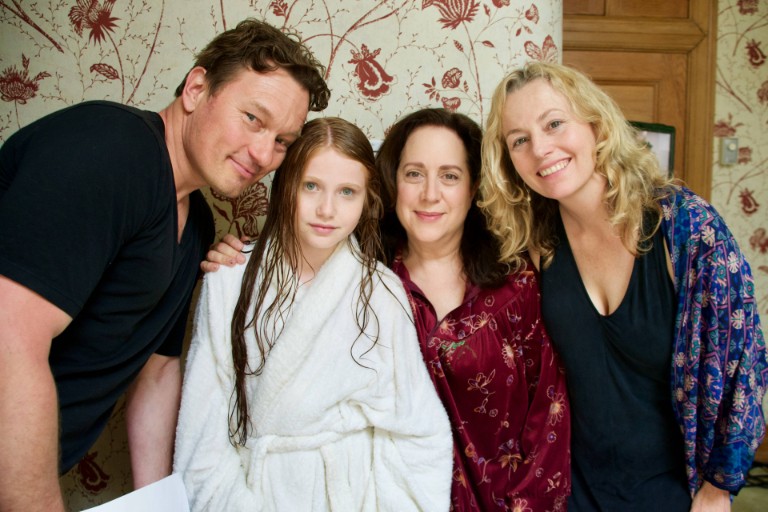 Left to right:
Mark Krupa (director), Chelsea Goldwater (actress), Ellen David (actress) and Bonnie Harnden (executive producer/writer) | photo by Ezra Soiferman
You Arrive's story of a therapist working with a young woman trying to come to terms with her history of trauma is intended to be one that many people can relate to, while creating an emotional response.
"Mark and I were trying to create a new genre of film with You Arrive, part education and part drama, that could help mental-health practitioners, parents and the general population understand the complex matrix that is intergenerational trauma," she says.
And so how does trauma affect us, and how do we unwittingly transfer it down to our children?
"Children learn all their emotional regulatory skills from the way their parents have managed their own emotions and also the trauma they may have experienced. Trauma disrupts this regulatory process of feeling things and then settling down. People who've experienced trauma tend to start feeling, and their nervous system fires up, and then they explode or withdraw," she continues.
The response to the play and then the film has been so cathartic and overwhelming that many audience members were left in tears, realizing how their past trauma has been colouring their social and family relationships.
"After the play, I applied for and was awarded grants from the Ministère de l'Économie et de l'Innovation and the R. Howard Webster Foundation. It took us five years to develop and complete the film," Harnden notes. "I felt so filled up by all the stories of kids and people who'd lived traumatic experiences, and it all really haunted me. I sat down one weekend and just wrote the whole play and it really helped me make sense of everything."
It made so much sense, in fact, that a sequel may be in the works.
"Writing the film screenplay was more challenging," Harnden continues. "Adapting a 1.5-hour play with a free format into a 30-minute film was challenging, which is why collaborating with a seasoned screenwriter like Mark, who was familiar with drama therapy and my body of work, proved instrumental."

Watch a short preview of You Arrive's opening sequence.
Find out more about Concordia's Department of Creative Arts Therapies.
---