haley "bird"
jenkins-crumb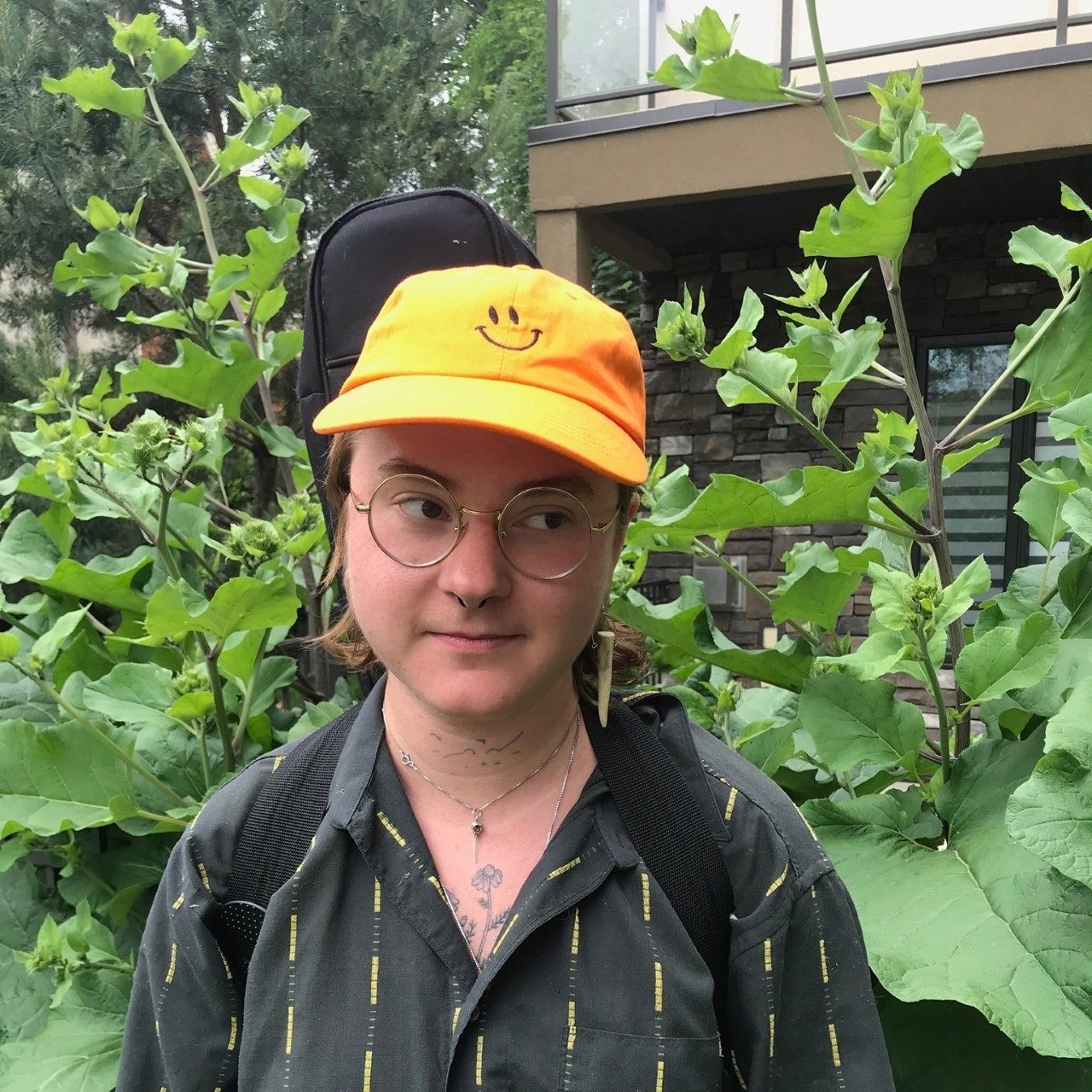 About the Artist
haley "bird" jenkins-crumb (they/them) is a creature from Edmonton, Alberta currently living in Montréal. They graduated in the spring of 2020 from Concordia's BFA program with a major in painting and drawing. Exploring processes of ecology, animism, listening, queerness, indeterminacy and magic, their media include drawing, performance + the body, analog and digital collage, video, and making + listening to sounds. Having previously played the oboe in a classical music setting, they now bring this instrument into their creative practice through the lens of animism and magic; their practice with the oboe often intersects with drawing (score creation), performance, video + sound, and work (i.e. play) with plants. They have performed in Montréal at Eastern Bloc, White Wall Studio, the Notman Garden (Milton-Parc), with the Art Matters festival and at Open Action Night (Sessions Aléatoires) at Concordia University.
Learn more about bird
bits+pieces: gathering spells, 2020, blog
About the Work
For the Connecting… residency, we started a blog called bits+pieces: gathering spells. The blog is somewhere between a learning lab and a public journal. Along with writing and creating (casting spells) around our life experiences, we're also sharing scores for creative actions and meditations. We're interested in how we can share an experience, not by just posting about it or expressing it, but by creating scores + spells as invitations for new events + actions to emerge. These can be written invitations, images, or videos. Scores can be similar to spells, but spells tend to be in conversation with multiple (infinite?) beyond-human actors in the world rather than orchestrating/inviting the actions of a particular person or group of people (i.e. someone engaging with the blog).
We are curious about how the computer and the internet can be tools for connection, rather than triggers for disconnection from the body + our awareness of the present moment. What does it mean to share an experience with others, in a way that cultivates resilient + healing connections? We hope to share graphic scores + spells excerpted from the blog on the Wikimedia Commons as serendipitous invitations for connection. We want to become more entangled with the possibilities offered by the web for spellwork – that is, conversations with the world.
Special thank you to Coral Short for their mentorship and support during the residency.
Discover the work on Wikimedia Commons
View next project