Workshops & seminars, Conferences & lectures
Science Journalism Workshop Series: Climate Reporting (Virtual)
Climate Reporting: It's Not all Doom and Gloom
---
DATE & TIME
Monday, April 24, 2023
5:30 p.m. – 7:30 p.m.
SPEAKER(S)
Jaela Bernstien
---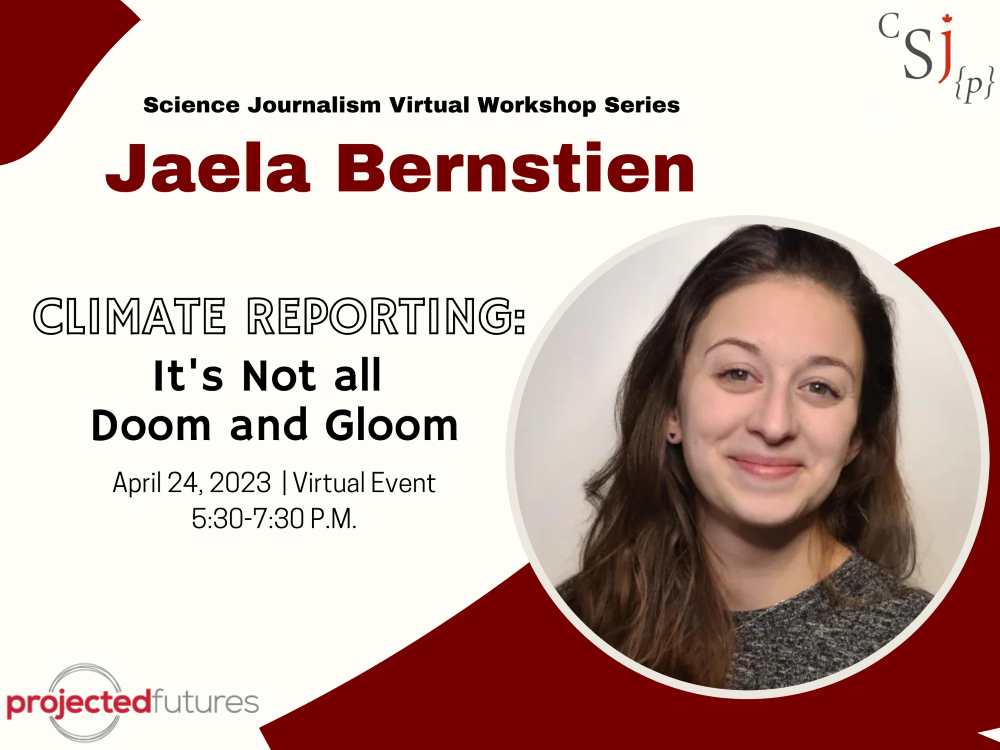 *Please note that a web glitch might list the event starting at 9:30 p.m. but it runs from 5:30 to 7:30 p.m.*
"Isn't covering climate change super depressing?"
It's the question many non-journalists love to ask. While it can be frustrating at times, unlike a lot of the tragedies we cover in daily news, this is a crisis we still have time to prepare for and adapt to. So how do we inform, while also offering hope in an over-saturated, generally-negative media cycle?
In this hands-on workshop we'll discuss solutions to challenges like dealing with "climate fatigue" from editors and your audience. Students will get a chance to put their skills to the test by preparing and delivering a short "live" report, based on an expert interview and the latest report from the Intergovernmental Panel on Climate Change.
The event is free, but registration is required as spots are limited.

Reserve by emailing: sjesummit@gmail.com.
Registered participants will receive a Zoom link the day before the event.
This workshop is part of a series organized for Projected Futures, an international graduate science journalism summer school. It will run this year from July 31 to August 4. Apply now.
About the speaker
Jaela Bernstien is a Montreal-based journalist who covers stories about climate change and the environment for CBC News. She has a decade of experience and files regularly for web, radio and TV. She won a CAJ award as part of a team investigating black-market labour in Quebec.
---