Concordia's In.Site symposium promotes collaborative sustainability in the fine arts
'One of our roles has always been to push new ideas forward and into the imagination of the public'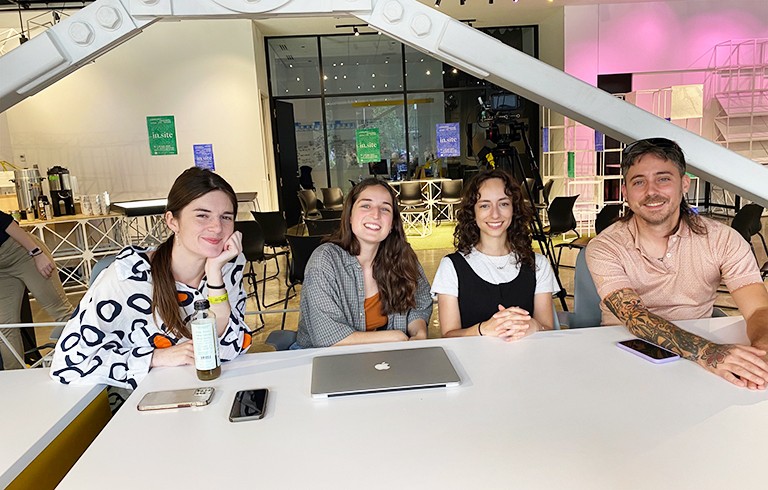 In.site student organizers Sarah Hontoy-Major, Elisabeth Bureau, Claire Lecker and Patrizio McLelland.
A priority strategic direction for Concordia's Faculty of Fine Arts is instituting and promoting sustainability.
To that end, the faculty recently hosted the week-long In.Site: Collaborative Sustainability Across the Fine Arts symposium, from September 12 to 16 at 4TH SPACE. The event was organized by pk langshaw, professor and chair of the Department of Design and Computation Arts, and a team of four undergrad students.
langshaw, who also chairs the Fine Arts Sustainability Action Committee, worked with the design students to hold a variety of sessions throughout the symposium.
"Sustainability is an urgent issue in the fine arts. Of course, it's an important issue for every discipline, but the materials and practices of the fine arts make us a special case," says Annie Gérin, dean of the Faculty of Fine Arts.
"We must be creative and innovative around how we make, study and work if we are responsibly preparing the cultural producers and artists of tomorrow."
The In.Site workshops, presentations and panel discussions were provided both in person and online. They covered several sociocultural and environmental sustainability topics within the fine arts, including making processes, waste, performance and more. Some of the sessions are now available for viewing on the 4TH SPACE YouTube channel.
STAIN Lab, a Sustainability Action Fund project, gave a workshop on solar eco-dyeing with wildflowers. Moe Beitiks, assistant professor in the Department of Theatre, spoke on new materialism and the performance of the non-human, exploring breath as a trans-species process in performance.
Economics student Karine Balé presented her research project mapping Concordia's sustainability ecosystem. And Department of Studio Arts faculty Kelly Jazvac and Juan Ortiz-Apuy had a discussion on the role and impacts of sustainability on their sculpture practices.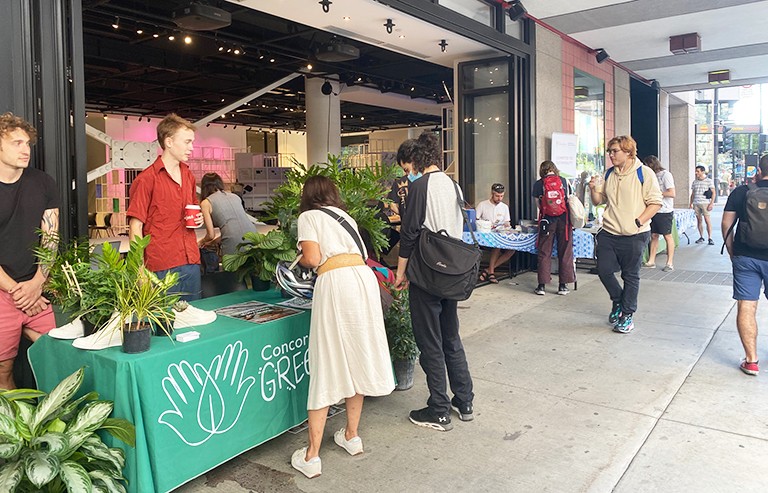 'Sustainability is everywhere and everything'
The event also featured a sustainability fair featuring collaborators from across the university, including the Concordia University Centre for Creative Reuse, Zero Waste Concordia and Concordia Precious Plastic Project, as well as an installation of artistic works.
"We wanted to hold an event to highlight the sustainable practices and pedagogy that are already embedded in our programs but are not necessarily known to the community at large," Gérin notes.
The In.Site team's student members included Elisabeth Bureau, Sarah Hontoy-Major, Claire Lecker and Patrizio McLelland. Their goal with the symposium was to introduce their peers to existing sustainability initiatives at Concordia, as well as to foster ideas about how the faculty can continue to build on their sustainable practices in the future.
"I think that one of the roles of the fine arts has always been to push new or radical ideas forward and into the imagination of the public," says Lecker, lead coordinator. "This will play an important role in tackling some of the major social and ecological crises we are facing."
According to McLelland, the team would like to see In.Site become a yearly fixture and a permanent part of the faculty's programming.
"Because sustainability is such a 'hyper problem' — that is to say, it is everywhere and in everything — it is important that we can use the arts as a means to address the scale and scope of it," McLelland says.
"What we do in art spheres can translate with salience into our collective human behaviours, especially when it comes to sustainability."

Find out more about sustainability at Concordia and learn more about the Faculty of Fine Arts.
---