You too can experience the 'maker scream'
Concordia education prof and SALTISE winner Ann-Louise Davidson uses emerging technology and collaborative workspaces to empower kids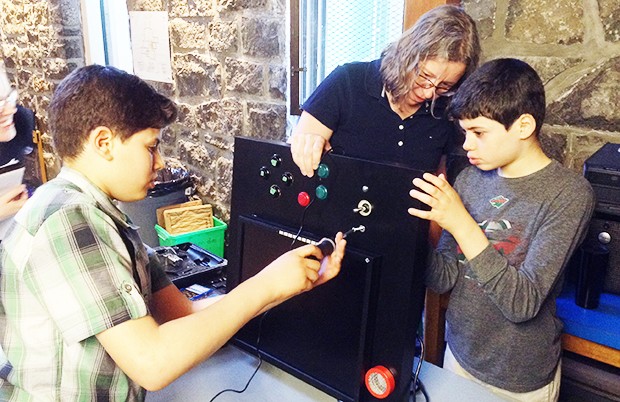 Ann-Louise Davidson leads a Community Engagement and Maker Culture Axis at Concordia's Milieux Institute.

Ann-Louise Davidson is an associate professor of education in Concordia's Faculty of Arts and Science and graduate program director for the MA in Educational Technology and the Graduate Diploma in Instructional Technology.
Recently, she was chosen to receive the 2017 SALTISE Best Practices & Pedagogical Innovators Award (university-level). The honour recognizes educators who stand out as leaders in the promotion of academic excellence, use of innovative pedagogies and support of their academic communities.
Davidson will accept the award at the SALTISE conference taking place on June 5 at Concordia.

'I felt the joy explode in my whole body'
When was the last time you saw a student stand up from her desk, raise her arms and scream with joy? This is what I call a "Eureka" moment. Yes, I found the solution! Yes, it works! Let me shout it out!
It happens regularly in the maker-space I lead in the Community Engagement and Maker Culture Axis of the Community and Differential Mobilities cluster of the Milieux Institute at Concordia.
Everybody stops what they are doing and watches their fellow maker experience the satisfaction of weeks, or months, of hard work and persistent problem-solving in an error-tolerant environment. The group applauds the student, and then we return to our work, hoping that we too will experience such satisfaction.
Over the past two years, I have been spending a lot of time in maker-spaces. Initially, I wanted to learn to use the Raspberry Pi that I got in 2012 but never managed to start up. The single-board computer stayed on my work table for a while, was moved to a shelf when I got tired of looking at it and then ended up in a drawer. But I had heard they used them in maker-spaces to do a variety of tasks and I was convinced that I could meet someone to help me.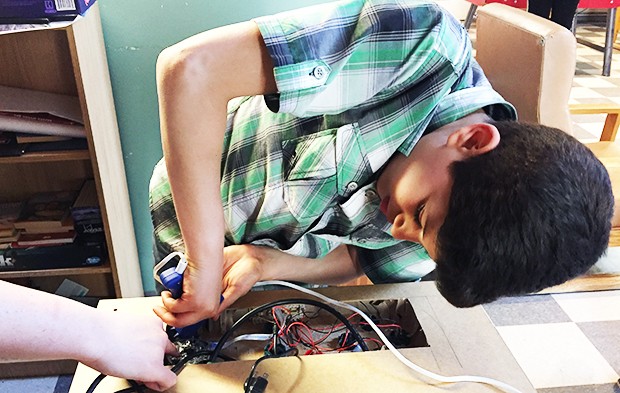 #makersgonnamake
When I entered a maker-space for the first time, in 2014, nobody could help me. But they did put me in touch with a monthly Raspberry Pi group and I was able to get some help from that network.
At the same time, I noticed that some makers were working on a meat cooker using an Arduino microcontroller. Other people were working on soldering electronic modules. Someone was building a prototype for a drone. Someone else was hacking away at a 3D printer that had some structural problems.
I spoke to a few people, spent time looking at other projects that were lying around and left with the same inspiration I felt the first time I visited a woodworking shop as a kid.
As soon as I walked out, I drove to the electronics store and bought an Arduino Uno, a few resistors and some light-emitting diodes. I kept the bag next to my computer and decided that once I was done work, I would treat myself to this new electronic world.
One cold Saturday night in February, I opened the packages. I connected the Arduino microcontroller to my Apple computer, but nothing worked. I went online and spent time in maker forums, where members encouraged me to post my questions and follow some well-known makers on Twitter. I tweeted in the middle of the night with a few hashtags — #makersgonnamake #arduino #geek — and someone from Australia responded.
Because this is an open-source culture, copies are frequent. I did not realize that I had bought a Chinese clone of Arduino and I needed a specific driver to operate the microcontroller from my computer.
When I finally uploaded my sketch onto the device and saw the LED blink, it was as though it was saying hello to me. I felt the joy start from my chest and explode in my whole body. I rose from my desk, threw my arms up, screamed and danced around. It was 3:30 a.m. and my husband ran downstairs to ask what had happened.

'Let your child be filled with the satisfaction of their creation'
Over the last six months, my colleague Giuliana Cucinelli and I have spent a considerable amount of time building arcade tables and gamepads with children from disadvantaged socio-economic contexts who have trouble concentrating in school. Some of these activities require high concentration for a sustained amount of time and, without exception, they lose track of time.
The level of difficulty and their own skills are not always in sync. But with a little help from a peer or adult, they succeed and feel a sense of accomplishment. They learn to persist, despite the challenges. They can make errors and find solutions. They can break something and learn to fix it instead of feeling bad about it. When they see their first prototype, they can't contain their joy.
If you have a child who has a hard time focusing in school, I suggest you visit your local maker-space and try it out for yourself. There are several in the Montreal area, such as the échoFab, the Foulab, the Concordia Library Technology Sandbox and District 3 MakerSpace. You will also find maker-spaces in several public libraries, such as the Benny Library.
Go hack away at a maker activity and let your child be filled with the satisfaction of their creation. It is quite possible that they too can experience the "maker scream".

Join education professors Ann-Louise Davidson, Giuliana Cucinelli and others for Concordia's Accessibility Gamepad Challenge on May 24 in Room 11.655 of the Engineering, Computer Science and Visual Arts Integrated Complex (1515 Ste Catherine St. W.) on Sir George Williams Campus.
---