Arts & culture
Library Exhibition: re* : imagining / créer / building / faire / mapping / connaissance / ...
---
DATE & TIME
Thursday, March 30, 2023 –
Thursday, June 1, 2023 (all day)
WHEEL CHAIR ACCESSIBLE
Yes
---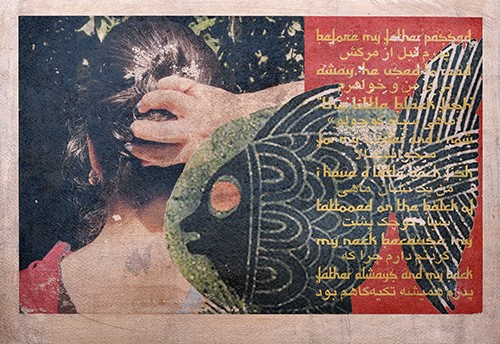 Amin Rehman, My father, 2021, Mixed media on paper 11x17.
Taking place at the Concordia University Webster Library vitrines and FOFA Art Gallery on unceded Kanien'kehá:ka traditional territory, re* is part of the Worlding Public Cultures 2023 Tiohtià:ke/Montreal colloquium.
Curated by Manar Abo Touk, Lorraine Doucet Sisto, and Varda Nisar, the Webster Library portion of the exhibition showcases the work of artist Amin Rehman.
re* allows for the possibilities to unlearn and relearn the diverse world-making practices that continue to exist and thrive, despite colonial attempts to eradicate them under the guise of progress.
The exhibition is conceived as a critical and collective reflection on the themes of worlding and world-making. We understand world-making as an endeavour that creates life, cosmos, heaven and earth; a sacred act contributing to the pluriversality of modes of being; a practice that has always guarded itself against the worlding desires of colonial, heteronormative and patriarchal modes of being. 
re* offers a counterpoint to colonial histories and archival practices. The artworks included in the exhibition reimagine and redefine ideas around time, space, land and languages. The works of artists rudi aker, Pansee Atta, Amin Rehman, and Swapnaa Tamhane foreground different possibilities for reclaiming languages and histories, resisting and refuting imposed geographies, and reframing pasts and futures. 

---