The School of Health is a hub where learning, research and training come together in the exploration of better health.
We leverage and enhance our existing base of high-quality and wide-ranging research expertise, resulting in federal, provincial, and philanthropic funding.
Our history
Opened in 2011, the PERFORM Centre was built through a $35 million investment from the Government of Canada and the Knowledge Infrastructure Program of Quebec's Ministère du Développement économique, de l'Innovation et de l'Exportation (MDEIE).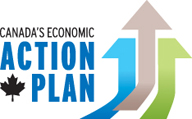 Sharing the art of healthy living
Get inspired by Adad Hannah's "Leap" design on the School of Health facade.