Associate Professor, Department of Sociology and Anthropology,
Director, Concordia Centre for Technoculture, Art and Games, Concordia University (Canada)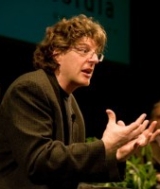 Bart Simon is Associate Professor in the Department of Sociology and Anthropology. He is co-founder and current director of the Concordia Research Centre for Technoculture, Art and Games (TAG). His background is in the areas of cultural sociology, science and technology studies and the sociology of knowledge and he has developed research projects and expertise in game studies and design, surveillance studies and material culture. While generally interested in questions of new media art and design as it pertains to human (and non-human) social interaction his current research is focused on digital game cultures and design.
Some of this current work is represented in journals such as Games and Culture, Game Studies and Loading…. His current research on gestural and physical gaming is funded by the Social Science and Humanities Council of Canada. He is a project leader and network investigator for the Canadian NCE network on Graphics, Animation and New Media (GRAND NCE), he is a co-director of the 'Montreal Games Incubator' project, and he is a collaborator in the Waterloo based Interactive & Multi-Modal Experience Research Syndicate (IMMERSe) as well as the SSHRC project, "Investigating the civic potential of video games" (with David Waddington, PI).