Our research focuses on facilitating the development of smart net-zero energy buildings.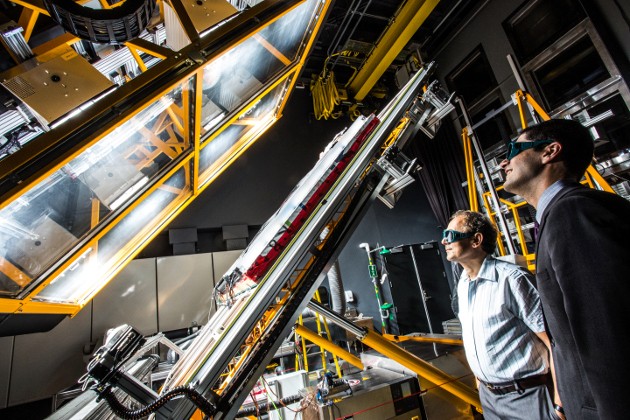 Solar simulator
Current research activities, future research directions and development strategies
The primary present funded collaboration is within the SNEBRN research program. The group has been recognized by the international site visit evaluation committee established by NSERC as a world leading group. The SNEBRN proposal was one of just two funded proposals out of about 15 originally submitted (at the LOI stage). It is the leading research initiative in Canada focused on the research that will facilitate the development of smart net-zero energy buildings. Concordia is the leader of SBRN with the largest number of researchers (5 out of 28) and 15 Universities participating.

The research unit's mission in relation to Concordia's strategic research plan:
The CZEBS builds on the long and successful history of CBS, the successes and international reputation of SBRN and its continuing network SNEBRN. Its work lies in the Energy and Environment Signature Area of the ENCS Faculty and in two areas of the University's strategic research plan:
Extract from the University Strategic Plan:
Sustainable buildings and infrastructure
Concordia has a long and rich history in the area of residential and commercial building environments and infrastructure. As a result of three decades of innovative and dedicated research, largely driven by the Centre for Building Studies, Concordia engineering faculty have built a unique hub for research expertise in construction and infrastructure engineering and management, building envelope performance, materials, structures, system services automation, air quality and thermal comfort, and energy systems in buildings. Over the past few years, research has evolved to focus on minimizing the environmental impact of buildings over their life span and the establishment of the Solar Buildings Research Network. The goal of this country-wide network is the development of solar-optimized building as an integrated advanced technological system that approaches net-zero energy consumption while being cost effective and comfortable. Our leadership in this area has made it possible for Concordia to quickly become a leading force in developing energy efficient buildings that are healthier, safer, more comfortable, and more responsive to the needs of their inhabitants and users.
In addition, CZEBS will have a strong presence in solar energy research related to the following:
Energy and environment: As pointed out in the University strategic plan "Energy research involves the development of energy generation, storage, and transmission capability with minimum environmental impact. Concordia is rapidly building critical mass in the area of renewable energy and has taken the lead on solar energy research."
The above statements underline the critical need for CZEBS to consolidate and expand our strength in the above strategic areas which are strongly interlinked.