Urban Witnesses: Episodes in a Changing City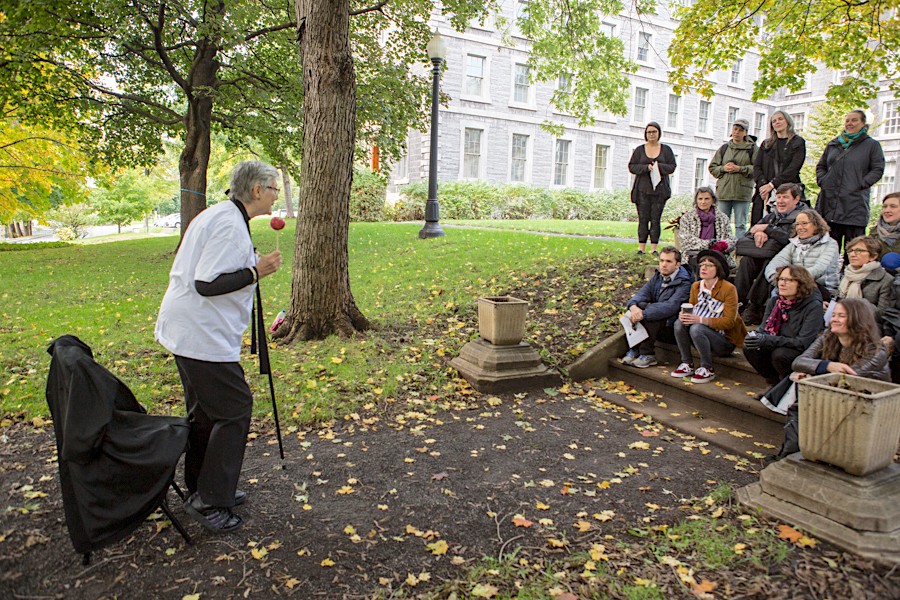 Wanda Potrykus performs her story of Shaughnessy Village in October 2018. Photograph © Lisa Graves
Researchers
Cynthia Hammond (Art History, Concordia University)
Shauna Janssen (Theatre, Concordia University)
Eric Craven (Atwater Library)
Funding

SSHRC Partnership Engage Grant
A curated memory journey through Shaughnessy Village
In a collaboration between the Centre for Oral History and Digital Storytelling and the Atwater Library's digital literacy and community outreach programs, Cynthia Hammond, Shauna Janssen, and Eric Craven are working with a self-identified group of Montreal seniors who are interested in sharing their knowledge about urban change.
Working between oral history, urban scenography, and new media, the group is engaging in intergenerational exchange, training, and mentoring with a team of five Concordia students and three Concordia faculty, all in different programs.
The project, "Urban Witnesses" is producing two "Promenades parlantes" between fall 2018 and spring 2019. These "talking walks" are a platform upon which the seniors creatively and publicly share their own memories, and the living memories of other seniors, in a curated journey through Shaughnessy Village, the neighbourhood in which both Concordia and the Atwater Library are situated.