The Faubourg complex sits on land that was leased from the Grey Nuns in 1925. In 1927 Laurol's Motor Sales built on the site and opened Autorow, a McLaughlin-Buick showroom.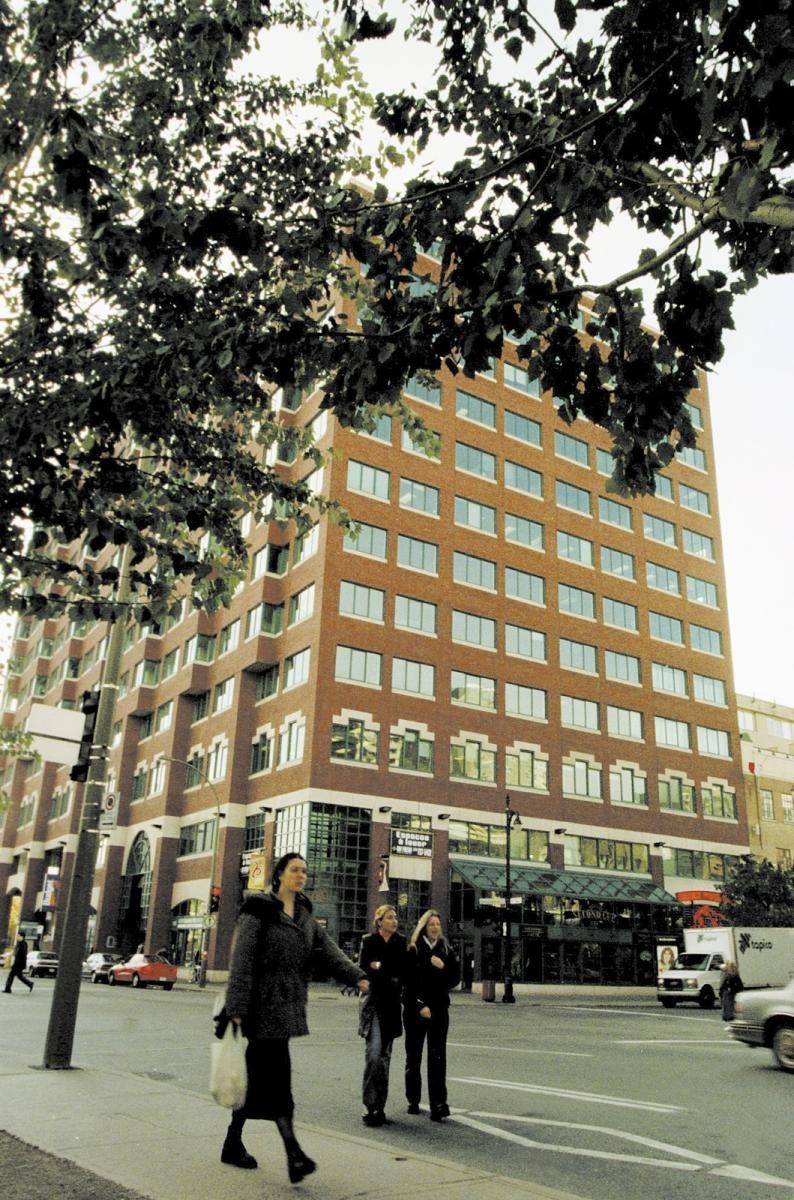 Faubourg Tower Building, viewed from the north-east corner of Guy and Ste-Catherine, with a small corner of the original building (now a food court) visible on the right, November 1999. Photo: André Forget.
The building later housed a bowling alley and the Leader Pool Room. In 1952 Toe Blake, recently-retired hockey player, and soon-to-be coach, of the Montreal Canadiens, opened his landmark tavern and Montreal meeting-place on the ground floor. Toe Blake's Tavern closed November 30, 1983. Le Faubourg Ste-Catherine opened in 1985 in the remodeled building, an urban market fashioned somewhat after Boston's Faneuil Hall. A new office tower, originally intended to be a hotel, is attached to the original building that is now a three-storey mall and food court and underground garage. The cinema closed in 2001 and the space was converted to classrooms. The food court is a popular, reasonably-priced eating and meeting place in a sun-filled atrium. Concordia bought the tower July 22, 1997, but it does not own the atrium commercial area. The Faubourg Building is home to the Centre for Continuing Education and the Mel Hoppenheim School of Cinema. In December 1997 the Cinema School was named after Mel Hoppenheim, a Montreal film equipment entrepreneur and generous Concordia benefactor.