The first facility for the fledgling Loyola College in 1896 was the vacant Sacred Heart Convent at Bleury and Ste-Catherine, about where the Spectrum theatre currently stands, a stone's throw from Collège Ste-Marie.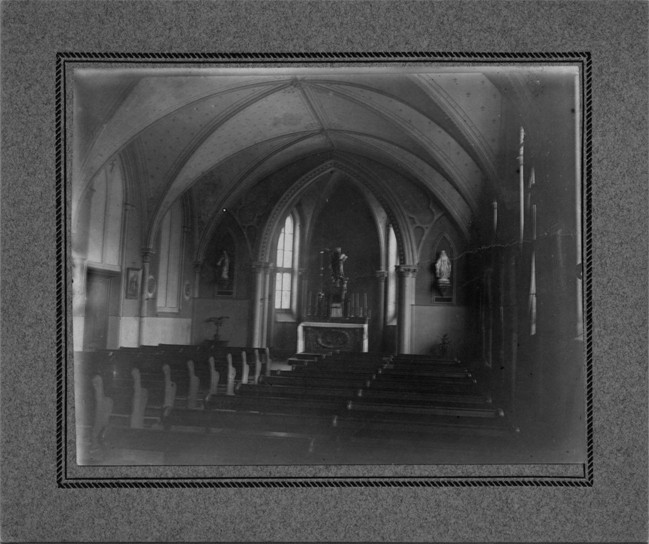 The chapel at Loyola College, the former Sacred Heart Convent, corner Bleury/Ste-Catherine, ca 1896. The handwritten comment on the back of the photo reads "now turned into a Moving picture Hall, 1908." P013-02-13
This was to be a temporary location until suitable land was purchased to build the new college, the only English Catholic college in Quebec. Classes began in September 1896 with 150 students. An addition was added in 1897 to accommodate increased enrolment. Loyola offered an English Classical Course, as had St. Mary's College. Initial offerings were a Preparatory class and early high school, with higher classes introduced yearly until the full classical course was available in 1902. Loyola followed the Jesuit educational blueprint, the Ratio Studiorum (1599, revised 1832), which provides a framework and organization for a classical education that is designed to train the mind and to develop the moral faculties. Fire struck the old Sacred Heart Convent building in early 1898, half-way through the second year of the college's existence. Loyola moved west, and away from its St. Mary's roots.