In 1841 Bishop Ignace Bourget invited the Jesuits to return to Canada (they left following the Suppression of the Society of Jesus in 1773) to establish a French Catholic university in Montreal. They arrived in Montreal in 1842 and in 1846 purchased the Donegani Orchard. The school would be between St-Alexandre and Bleury, Ste-Catherine and Dorchester (now René Lévesque, where the Gésu presently stands).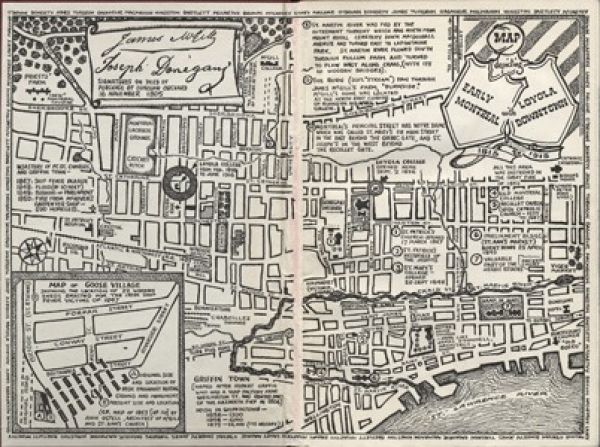 "Map Depicting Early Montreal with Loyola Downtown," by T. P. Slattery, used in his book Loyola and Montreal, Montreal: Palm Publishers, 1962.
Meanwhile in the 1840s famine in Ireland led to massive Irish Catholic immigration to North America. In 1847 typhoid fever raged through the overcrowded ships, the quarantine facilities on Grosse Ile, and the infamous fever sheds of Pointe Ste-Charles. Plans for the school changed and in September 1848 Collège Ste-Marie/St. Mary's College opened its doors in its first temporary home at 17 St. Alexander Street. There were 13 students, and a teaching staff of four Jesuits from France, and one from Ireland. It offered classical and commercial courses in English and French to serve Montreal's Catholics. Fees were $3/month ($2/month for the Preparatory Class). By 1888 the college inaugurated a separate English program in the classical tradition, and in 1896 the Jesuits launched the new independent Loyola College, named for the order's founder, St. Ignatius of Loyola.